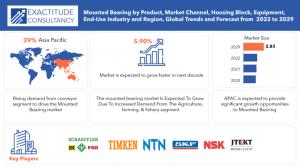 Mounted Bearing Market
The global Mounted Bearing market at a Compounded annual growth rate (CAGR) of 5.90%
Counterfeit bearings are a key stumbling block in the market for mounted bearings."
— Exactitude Consultancy
LUTON, BEDFORDSHIRE, UNITED KINGDOM, November 21, 2023 /EINPresswire.com/ — The bearing is a machine component that decreases friction between moving parts by limiting relative motion to only that which is required. The car bearing is a critical component in the vehicle, since it is responsible for the vehicle's efficient and smooth functioning. Its main purpose is to enable linear or rotational movement as well as high-pressure processing. Increased use of mounted bearings in different sectors, rising disposable income, and increased vehicle production throughout the world are some of the key factors driving the worldwide mounted bearing market over the forecast period. However, the market's development is hampered by rising vehicle electrification and volatile raw material prices.
The global Mounted Bearing market size is USD 1.71 billion in 2020 and is expected to grow till USD 2.83 billion by 2029, at a Compounded annual growth rate (CAGR) of 5.90%
Counterfeit bearings are a key stumbling block in the market for mounted bearings. Counterfeit bearings result in increased costs, dangers, and worse machine dependability, as bearing failures are more often. These bearings are made from low-grade materials and are frequently produced on old machinery by minimum-wage workers. The packaging of these counterfeit bearings makes them appear to be exact replicas of authentic items, making it difficult for purchasers to distinguish between the two. When these low-quality items are placed into operation, they fail more frequently, resulting in greater maintenance and purchasing costs–costs that are generally far larger than the amount saved on the unit price of the bearings when they were purchased.
Get Sample Copy of The Report:
https://exactitudeconsultancy.com/reports/6331/mounted-bearing-market/#request-a-sample
Mounted Bearing Market Drivers:
1. Industrial Automation:
• Increased Automation: The growing trend toward industrial automation across various sectors, including manufacturing and logistics, drives the demand for reliable and efficient mounted bearings in automated machinery and equipment.
2. Rise in Manufacturing Activities:
• Global Manufacturing Growth: The expansion of manufacturing activities worldwide, especially in emerging economies, fuels the demand for mounted bearings in conveyor systems, processing equipment, and other machinery.
3. Construction and Infrastructure Development:
• Infrastructure Projects: Infrastructure development projects, such as construction of buildings, bridges, and transportation networks, contribute to the demand for mounted bearings in heavy construction equipment.
4. Agricultural Machinery:
• Mechanization in Agriculture: The adoption of mechanized farming practices and the use of agricultural machinery drive the demand for mounted bearings in equipment such as tractors, plows, and harvesters.
5. Mining Industry:
• Increased Mining Activities: The growth in mining operations worldwide leads to higher demand for mounted bearings in various mining equipment, including conveyors, crushers, and screening machines.
6. Energy Sector:
• Renewable Energy Projects: The expansion of renewable energy projects, such as wind turbines and solar power systems, creates opportunities for mounted bearings in the construction and maintenance of power generation equipment.
Request Full Report Of Mounted Bearing Market:
https://exactitudeconsultancy.com/reports/6331/mounted-bearing-market/
Mounted Bearing Market Opportunities:
1. Smart Bearings and IoT Integration:
• Sensor Technology: Integration of sensors in mounted bearings for condition monitoring and predictive maintenance, providing real-time data on bearing health and performance.
2. Customized Solutions:
• Application-Specific Bearings: Offering customized mounted bearing solutions tailored to specific industry needs, providing improved performance and longevity.
3. E-commerce Logistics:
• Material Handling Equipment: The growth of e-commerce and logistics presents opportunities for mounted bearings in material handling equipment, such as conveyors and sortation systems.
4. Energy-Efficient Bearings:
• Advanced Lubrication Technologies: Developing energy-efficient bearings with advanced lubrication technologies to reduce friction and improve overall efficiency.
5. Focus on Sustainability:
• Environmentally Friendly Materials: Utilizing sustainable and environmentally friendly materials in the manufacturing of mounted bearings to align with the growing emphasis on sustainability.
6. Technological Innovations:
• 3D Printing: Exploring the use of 3D printing technology to manufacture custom-designed mounted bearings, offering flexibility and faster production.
7. Aftermarket Services:
• Maintenance Solutions: Providing aftermarket services, including maintenance contracts and bearing replacement solutions, to cater to the ongoing needs of industries and extend the life of machinery.
8. Expansion in Emerging Markets:
• Global Market Expansion: Identifying and capitalizing on opportunities in emerging markets where industrialization and infrastructure development are on the rise.
Mounted Bearing Market Key Developments:
• In September 2021, SKF launched a new line of spherical roller bearings in North America. These bearings are specifically designed to increase uptime and lower production costs, and their application in slab, billet, and bloom reduces environmental impact during continuous casting operations.
• In July 2021, NSK Ltd. developed a third-generation ultra-high-speed ball bearing for electric vehicle (EV) motors capable of operating at over 1.8 million dmN*1. The new bearing is the world's fastest grease-lubricated deep groove ball bearing for automotive applications, enabling longer vehicle range and higher energy (fuel) economy.
• In July 2021, NTN Bearing Corporation released its latest innovation, the KIZEI spherical roller bearing. KIZEI spherical roller bearings, developed by the NTN-SNR team in Annecy, France, are the first spherical roller bearings with metallic shields that protect the bearings from solid contamination such as dust, pebbles, and other debris.
Mounted Bearing Market Regional Segmentation:
Geographically, Mounted Bearing market is segmented into North America, Europe, Asia Pacific, and Rest of the world.
• North America: includes the US, Canada, Mexico
• Europe: includes UK, Germany, France, Italy, Spain, Russia, and Rest of Europe
• Asia Pacific: includes China, Japan, South Korea, India, Australia, ASEAN and Rest of APAC
Manufacturers in the steel, cement, and metal processing industries would benefit from the increased focus on infrastructure development to handle the expanding population. To offset the negative economic trend caused by the COVID-19 pandemic, major economies are likely to design economic packages to stimulate the growth of small and medium businesses. China and Japan are expected to be major development drivers in the APAC mounted bearing market. In APAC, companies have established industrial bases, and nations in the region serve as key export centers.
Mounted Bearing Market Segmentation:
Mounted Bearing Market by Product, 2020-2029 (USD Millions)
• Ball Bearing
• Roller Bearing
Mounted Bearing Market by Market Channel, 2020-2029 (USD Millions)
• OE Market
• Aftermarket
Mounted Bearing Market by Housing Block, 2020-2029 (USD Millions)
• Plummer Block
• Flanged Block
• Take-Up Block
Mounted Bearing Market by Equipment, 2020-2029 (USD Millions)
• Ball Mill Drives
• Fans & Blowers
• Gearbox & Transmission
• Conveyors
• Crushers
• Mixer Drives
• Others
Mounted Bearing Market by End Use Industry, 2020-2029 (USD Millions)
• Food & Beverage
• Agriculture
• Farm & Fish
• Construction & Mining
• Cement & Aggregate
• Automotive
• Chemical & Pharmaceutical
• Energy
• General Industrial & Machinery
• Transportation
• Pulp & Paper
• Other
Access Our Other Reports:
Steel Pipe Piles
https://exactitudeconsultancy.com/reports/12206/steel-pipe-piles-market/
Plastic Extrusion Machines
https://exactitudeconsultancy.com/reports/13851/plastic-extrusion-machines-market/
Medical Coatings
https://exactitudeconsultancy.com/reports/1410/medical-coatings-market/
Industrial Coatings
https://exactitudeconsultancy.com/reports/1638/industrial-coatings-market/
Ceramic Sanitaryware
https://exactitudeconsultancy.com/reports/1722/ceramic-sanitaryware-market/
Irfan T
Exactitude Consultancy
+1 704-266-3234
email us here
Visit us on social media:
Twitter
LinkedIn