Reviewing "Summer: The Donna Summer Musical" several years ago, the critic Jesse Green ingeniously described the biographical jukebox musical as "the cockroach of Broadway," explaining, "It has a small head, a primitive nervous system and will probably outlast the apocalypse."
"Hell's Kitchen," which just opened off-Broadway at the Public Theater but seems destined to move uptown, draws from the life and music of Alicia Keys, a pop-soul star born shortly after Summer's late-1970s heyday. While inspired by Ms. Keys's formative years in the titular New York City neighborhood, the show is not rigidly biographical; nor could it be strictly labeled a jukebox musical, as the singer/songwriter crafted a few new tunes for the production.
The 17-year-old heroine of "Hell's Kitchen" is called Ali (pronounced Ally); like Ms. Keys, she has a Black father and a white mother and is being raised by the latter, who juggles jobs to support her daughter. Yet where Ms. Keys began developing her prodigious piano skills as a pre-adolescent — and famously graduated Manhattan's Professional Performing Arts School at 16, as valedictorian — Ali initially seems more preoccupied with the cute guy who plays drums on her street corner.
Then Ali meets Miss Liza Jane, a Black pianist of a certain age who lives in her building, which provides affordable housing for artists. After the teenager sneaks into the building's practice room one day, the older woman concludes she has found a protégée. "You are here because the voices of your ancestors have requested your presence," she tells Ali. Later, after her adopted pupil has begun to blossom, Liza Jane will declare, "You are but the latest branch on a long-standing tree."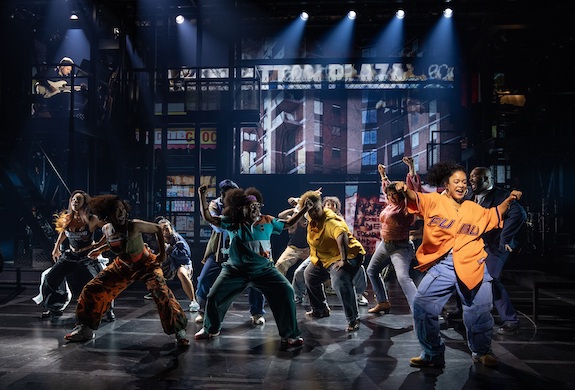 Librettist Kristoffer Diaz has sprinkled "Hell's Kitchen" with such platitudes, as well as corny jokes, and the basic story — that of a rebellious girl who doesn't appreciate her self-sacrificing mom at first, but then matures — invites them. Yet the musical works in spite of this, thanks to its tremendous heart and the talents of both the performers and other members of its creative team.
Ms. Keys, who doesn't perform in the production, is key among the latter. Having emerged as an artist in the wake of the neo-soul movement that followed hip-hop's commercial rise, she has deftly incorporated old-school R&B textures throughout a career spanning more than two decades, and for "Hell's Kitchen," she and music supervisor Adam Blackstone have woven them into arrangements that are both soulful and theatrically compelling — as are the orchestrations, provided by Mr. Blackstone and Broadway veteran Tom Kitt.
Hits such as "Teenage Love Affair," "You Don't Know My Name," and "If I Ain't Got You," and less widely played gems like the moving "Perfect Way to Die" — mostly composed with other artists, sometimes several of them, as is the fashion with many popular songwriters — are presented in different contexts than fans have grown accustomed to, both musically and in terms of how they accommodate the original characters here. (A corny nod to Ms. Keys's breakthrough single, "Fallin'," feels more contrived.) Among the new songs, "Kaleidoscope" is a shimmering highlight.
Choreographer Camille A. Brown, whose lyrical and exhilarating work has been seen in Broadway revivals of "Once on This Island" and "for colored girls who have considered suicide/when the rainbow is enuf," matches the exuberant energy of the music with kinetic routines that wouldn't be out of place at a pop concert. Here, though, the dancing serves the storytelling, or at least doesn't intrude on it. 
Director Michael Greif, whose many Broadway credits include pop-informed hit musicals ranging from "Rent" to "Dear Evan Hansen," culls dynamic performances from his cast, led by newcomer Maleah Joi Moon as Ali and musical theater favorite Shoshana Bean, who's predictably endearing as Ali's mother, Jersey. Ms. Moon is a find, feisty and adorable, with an exquisitely textured singing voice — though one wishes that she, and other principals, would lay back just a bit on the sort of melismatic tricks in which their pop and R&B peers overindulge.
Other standouts, vocally and in their presence on stage, include a seductive Brandon Victor Dixon as Ali's well-meaning but mostly absent father, Davis, and Kecia Lewis, who lends elegance and gravitas to the part of Liza Jane. Chris Lee is sweetly appealing as Knuck, that drummer who catches Ali's eye, and who is unfairly judged by others because of his brawny, brooding appearance — not to mention his skin color.
But the real love story in "Hell's Kitchen," the one bound to moisten the eyes of anyone who has ever been or raised a teenager, is between Ali and her mom. The musical is also, not surprisingly, a valentine to New York: The production closes with an effusive performance of Jay Z's 2009 smash "Empire State of Mind," which featured Ms. Keys's singing and continues to blast continually from bicycles giving city tours in Times Square.
Choosing "Empire" for the finale is, it could be argued, just the kind of crassly crowd-pleasing move you would expect in a jukebox outing. But like "Hell's Kitchen" overall — perhaps ironically, given its title — the number will lift your spirits, even as that apocalypse surely approaches.