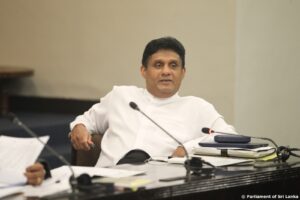 Opposition Leader Sajith Premadasa and Sports Minister Roshan Ranasinghe declared war on Sri Lanka Cricket in Parliament today, accusing the cricket board of influencing the International Cricket Council (ICC) to ban Sri Lanka.
Premadasa accused the Sri Lanka Cricket board of violating the Sri Lankan constitution.
He accused the Sri Lanka Cricket Board of misleading the ICC.
Premadasa called on Speaker Mahinda Yapa Abeywardena to summon the cricket board before the privileges committee to be questioned.
Meanwhile, Sports Minister Roshan Ranasinghe tabled letters written to the ICC by the Sri Lanka Cricket board.
He said the letters make it clear the cricket board influenced the International Cricket Council to ban Sri Lanka.
Sri Lanka Cricket led by Shammi Silva yesterday admitted it had complained to the International Cricket Council over the interference by Sports Minister Roshan Ranasinghe, which eventually led by the ban on SLC by the ICC.
Issuing a statement yesterday (Sunday), SLC said that it strongly refutes the recent allegations made by the leadership of the opposition Samagi Jana Balawegaya in Parliament regarding the communication between SLC and the ICC.
"It is evident that there is a misapprehension and misinterpretation of the contents of the letter under reference, and the SLC is compelled to clarify its position on the said matter," the SLC said in a statement.
The SLC said that it has a duty, as a full member of the ICC, to keep the ICC informed of any difficulties it has in carrying out its obligations towards the ICC.
In the statement, SLC said that following the appointment of Sports Minister Roshan Ranasinghe there has been continuous undue interference in the governance and operational matters of the SLC.
SLC said that the interference by the Sports Minister made it difficult for SLC to run its day-to-day affairs.
As a result, SLC brought it to the attention of the ICC that the interference by the Minister was preventing it from honoring the obligations of the ICC.
According to SLC, the ICC had then issued multiple warnings to Sri Lanka and since the warnings were ignored the ICC eventually suspended Sri Lanka Cricket. (Colombo Gazette)

Post Views: 179