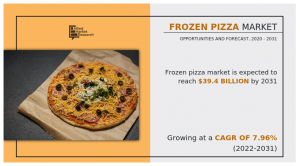 Frozen Pizza Market 2031
The development of vaccines and their approval in few countries has provided some relief.
The development of vaccines and their approval in few countries has provided some relief."
— Allied Market Research
WILMINGTON, NEW CASTLE, DELAWARE 19801 USA, UNITED STATE, November 21, 2023 /EINPresswire.com/ — The Global Frozen Pizza Market was valued at $17,362.80 million in 2020, and is projected to reach $39,373.20 million by 2031, growing at a CAGR of 7.96% from 2022 to 2031.
The fast-paced lifestyle of individuals has enforced them to seek convenient solutions. Growth in demand for convenience food has led the foundation for the frozen pizza market. However, consumers want frozen pizzas that are healthier and have real and authentic food attributes. Frozen pizzas are today perceived as premium food products. The different types include regular thin crust, extra thin crust, deep-dish, and others, such as classic/thick crust, stuffed crust, and rise crust. Health consciousness among the consumers has led to the growth in popularity of gluten free frozen pizza supplementing the market growth. Other factors such as increased disposable income, rise in standard of living, and rapid increase in number of large retail chains further fuels the market growth.
𝐃𝐨𝐰𝐧𝐥𝐨𝐚𝐝 𝐒𝐚𝐦𝐩𝐥𝐞 𝐂𝐨𝐩𝐲 @ https://www.alliedmarketresearch.com/request-sample/4565
To better retain the freshness and quality of frozen pizza, various frozen pizza manufacturers have started investing in R&D to seek new and innovative freezing technologies. This includes pre-treatment of the frozen pizza, freezing processes, cold chain logistics, as well as warehouse management. Major players, such as General Mills and Nestle, have enjoyed cost advantage amidst increasing cost of raw materials on account of operational excellence. As cost of raw materials would increase, players are expected to invest in R&D to develop advanced freezing technologies to reduce energy consumption and overall production cost, thereby increase in profit margins. For instance, the advancement of technology has led to the introduction of the quickest freezing technology such as impingement freezing, hydro-fluidization freezing, high-pressure assisted freezing, magnetic resonance-assisted freezing, and others. Freezing pizza with the help of liquid nitrogen also provides a major opportunity to the frozen pizza manufacturers, thus driving the market growth.
The global frozen pizza market is segmented on the basis of crust type, toppings, distribution channel, and geography. Based on product type, the market is segmented into regular thin crust, extra thin crust, deep-dish, and others. Based on toppings, the market is segmented into meat topping and vegetable topping. Based on distribution channel, the market is segmented into food chain service, and retail.
𝐌𝐚𝐤𝐞 𝐚𝐧 𝐄𝐧𝐪𝐮𝐢𝐫𝐲 @ https://www.alliedmarketresearch.com/purchase-enquiry/4565
𝐊𝐞𝐲 𝐁𝐞𝐧𝐞𝐟𝐢𝐭𝐬 𝐅𝐨𝐫 𝐒𝐭𝐚𝐤𝐞𝐡𝐨𝐥𝐝𝐞𝐫𝐬
1. This report provides a quantitative analysis of the Frozen Pizza Market Size, market segments, current trends, estimations, and dynamics of the frozen pizza market analysis from 2020 to 2031 to identify the prevailing Frozen Pizza Market Opportunity.
2. The market research is offered along with information related to key Frozen Pizza Market Forecast, drivers, restraints, and opportunities.
3. Porter's five forces analysis highlights the potency of buyers and suppliers to enable stakeholders make profit-oriented business decisions and strengthen their supplier-buyer network.
4. In-depth analysis of the Frozen Pizza Market Share assists to determine the prevailing Frozen Pizza Market demand.
5. Major countries in each region are mapped according to their revenue contribution to the global market.
6. Market player positioning facilitates benchmarking and provides a clear understanding of the present position of the market players.
7. The report includes the analysis of the regional as well as global frozen pizza market trends, key players, market segments, application areas, and Frozen Pizza Market Growth strategies.
𝐒𝐩𝐞𝐚𝐤 𝐭𝐨 𝐎𝐮𝐫 𝐀𝐧𝐚𝐥𝐲𝐬𝐭 @ https://www.alliedmarketresearch.com/connect-to-analyst/4565
Based on crust type, Regular Thin Crust segment held the major share in the market. Frozen pizzas are trending toward thin crusts, owing to its reduced calories and health association they offer as compared to the other stuffed and deep-dish frozen pizzas. Thus, growing health consciousness among the consumer is anticipated to drive the regular thin crust frozen pizzas market.
Changes in lifestyle impacts the consumer taste and behaviour, and the hectic modern life changes North America consumers inclination toward frozen pizza, as it is easy and quick to prepare. Large spending capabilities of consumers boost the consumption of frozen pizza in the North America. Furthermore, the high demand for convenience food in this market is anticipated to fuel the growth of the frozen pizza market. In 2020, the U.S. was the largest market in North America and is anticipated to grow at a significant CAGR of 7.9%.
Based on toppings, vegetable toppings witness a major growth rate in the market. Vegetable topping include capsicum, onion, tomato, mushroom, peppers, and others. Manufacturers focus on seasonal vegetables as toppings for the pizza. Frozen pizza manufacturers take seasonal vegetables and have them available throughout the year.
The report includes comprehensive analysis of the key players in the operating in the Frozen Pizza Industry such as Nestle S.A., Hansen Foods, LLC (Private Label), Schwan Food Co., Dr. Oetker, General Mills, Inc., Freiberger Lebensmittel GmbH & Co. KG., Conagra Brands Inc., Daiya Foods Inc., Amy's Kitchen, Inc., and Palermo Villa, Inc.
𝐌𝐚𝐤𝐞 𝐚 𝐃𝐢𝐫𝐞𝐜𝐭 𝐏𝐮𝐫𝐜𝐡𝐚𝐬𝐞 @ https://www.alliedmarketresearch.com/checkout-final/4408bede071e26e3385f4c1403166277
𝐓𝐫𝐞𝐧𝐝𝐢𝐧𝐠 𝐑𝐞𝐩𝐨𝐫𝐭𝐬 𝐢𝐧 𝐅𝐨𝐨𝐝 𝐚𝐧𝐝 𝐁𝐞𝐯𝐞𝐫𝐚𝐠𝐞𝐬 𝐈𝐧𝐝𝐮𝐬𝐭𝐫𝐲
1. Sorghum and Sorghum Seeds Market: Global Opportunity Analysis and Industry Forecast 2020–2030
2. Flour Market: Global Opportunity Analysis and Industry Forecast 2020–2031
3. Maize Flour Market: Global Opportunity Analysis and Industry Forecast 2021–2030
David Correa
Allied Market Research
+1 800-792-5285
email us here
Visit us on social media:
Facebook
Twitter
LinkedIn