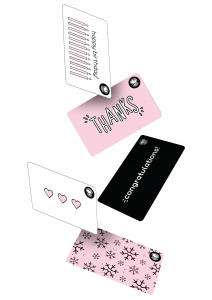 LINDON, UT, USA, November 17, 2023 /EINPresswire.com/ — During the week of Thanksgiving, Crumbl, the connoisseur of cookies, is set to elevate the holiday spirit with a lineup of delectable deals that will help bring friends and family members closer together. Customers are in for a treat as Crumbl offers limited-time promotions that promise to add an extra layer of sweetness to the season's festivities.
A Sweet Bonus
Starting Monday, November 20th, Crumbl kicks off the Thanksgiving festivities with the perfect party combo: Purchase a Party Box and receive a free Cover Your Cookies card game! The cookie-and-game duo deal runs until Wednesday, November 22nd, while supplies last. Cookies and game night will surely create special meaningful moments with others.
But the celebration doesn't stop there. As the Thanksgiving feast winds down, Black Friday deals will take center stage, offering a unique opportunity to satisfy cravings and check off holiday gift lists.
Gift More, Get More
For every in-store purchase of four $20 physical gift cards, customers will receive an additional $20 gift card for free on November 24th and 25th, while supplies last. Gift cards are a great treat for friends, family, and loved ones, providing the freedom to buy cookies whenever, wherever, and however they want. Mix and match flavors to enjoy the classics like chocolate chip, or unique twists of the week!
The holiday season can sometimes feel like a race against time, but Crumbl encourages everyone to slow down, savor each moment, and share the love. Crumbl cookies aren't just treats; they're bite-sized memories that bring people together.
In the spirit of giving, take a break from the hustle and bustle, grab a Pink Box of delicious cookies, and enjoy some quality time creating meaningful moments with those who matter most.
For media inquiries, please contact:
###

press@crumbl.com
About Crumbl:

Crumbl Cookies's mission is to bring friends and family together over a box of the best cookies in the world. Crumbl was founded in 2017 in Logan, Utah, by Jason McGowan and Sawyer Hemsley. In just six years, Crumbl has grown from a humble cookie shop to a booming franchise with over 950 locations across all 50 US states, Puerto Rico, and Canada. Its rotating menu offers new flavors every week, while regularly bringing back crowd favorites and unique original recipes. Crumbl is open from 8am–10pm on weekdays, 8am–12am on Fridays and Saturdays, and is closed on Sundays. Visit Crumbl online at crumblcookies.com, on social media (@crumblcookies), or at any of its nationwide locations.
Crumbl Press
Crumbl Cookies
press@crumbl.com
Visit us on social media:
Facebook
Twitter
LinkedIn
Instagram
YouTube
TikTok