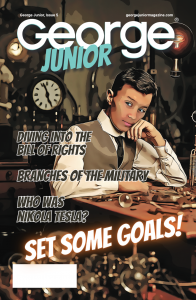 HOT SPRINGS, ARKANSAS, USA, November 18, 2023 /EINPresswire.com/ — George Magazine has recently launched their latest creation, a new children's magazine focused on leadership, patriotism, and faith. The magazine is geared toward children ages 6 to 12 and features a thought-provoking theme each month. Its latest edition set to release today focuses on setting goals and creative ways to stick with them.
In this issue, readers can also look forward to:
1. Comic Book Style Stories: Read along as George Jr., his friend John, and his

sister Betsy, learn a lesson in setting goals, practicing, and staying patient.
2. Bible Stories: Each issue brings to life Bible stories, offering a kid-friendly

perspective on the teachings and morals found within these tales.
3. Branches of the Military: Children will learn the branches of the United

States Military and what each branch is responsible for.
4. Activities: Readers will learn how to create their very own snow globe as

well as how to make Garlic Toast Pizza.
5. Vocabulary: George Junior believes learning new words is important, and

each issue features a set of five words in the beginning of the magazine the

children will seek to find throughout the rest of the magazine.
6. Notable People: This issue features information about Nikola Tesla and the

inventions he created.
Parents can rest assured that George Junior magazine provides a safe and enriching environment for their children. The magazine's focus is on providing quality content that is both educational and entertaining, allowing kids to explore the world around them while maintaining the innocence of childhood.
George Junior is available at georgejuniormagazine.com. Subscriptions are also available for added convenience and savings. The magazine is a monthly

subscription, allowing children to have something fun to look for in the mail.
With its dedication to fostering intellectual growth and character development, George Junior is the perfect gift for parents and grandparents looking to inspire children while keeping them engaged. Each issue is thoughtfully crafted to stimulate young minds and encourage them to dream, investigate, and thrive.
GEORGE
GEORGE Magazine
info@georgemagazine.com
Visit us on social media:
Twitter
LinkedIn
Instagram
TikTok