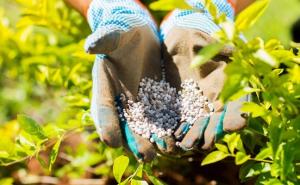 Canada Crop Micronutrients Market
Canada Crop Micronutrients market is expected to witness significant growth, owing to increase in use of micronutrients by farmers for producing better quality products in large quantity. "
— Allied Market Research
WILMINGTON, NEW CASTLE, DELAWARE 19801 USA, UNITED STATE, November 17, 2023 /EINPresswire.com/ — According to a new report published by Allied Market Research, titled, "Canada Crop Micronutrients Market by Form, Product Type, Crop Type, and Application: opportunity analysis and industry forecast, 2021–2027," The Canada crop micronutrients market size was valued at $175.4 million in 2019, and is projected to reach $261.7 million by 2027, registering a CAGR of 7.2% from 2021 to 2027. In 2019 the soil application segment accounted for more than 50% share of the Canada crop micronutrients market in terms of value.
Request Sample Copy of This Report @ https://www.alliedmarketresearch.com/request-sample/10719
Crop micronutrients such as boron, zinc, iron, molybdenum, manganese, copper, and chlorine are essential nutrients that are required for the growth and balanced nutrition of plants and crops. Micronutrients are basic nutrients required in minor amounts to treat deficiency in plants and improve the quality and crop yield. Chlorosis, yellowing of leaves, gummosis, and rot are a few illnesses that are prevalent in plants due to insufficiency of micronutrients.
Crop micronutrients maintain the nutrient level in crops & soil to enhance productivity and growth of crops. These nutrients find extensive applications in agribusiness, thereby driving the growth of the crop micronutrients industry. The requirement of effective fertilizers is on rise due to poor soil quality, therefore, effectiveness of micronutrients for enhancing the crop yield and productivity has fueled the popularity of crop micronutrients among farmers in recent years. Micronutrients act as enzyme co-factors and building blocks that enable plants to build complete proteins and compounds. In addition, they aid in the development of large, strong roots and boost immunity of plants.
Increase in awareness about benefits of micronutrients among farmers & growers and surge in demand for healthy & nutritious food fuel the growth of the Canada crop micronutrients market.
Get Report Customization @ https://www.alliedmarketresearch.com/request-for-customization/10719
Vertical farming is a revolutionary approach used to produce food in vertically stacked layers such as in a skyscraper, used warehouse, or shipping container. It facilitates huge quantity of nutritious and quality fresh food without relying on favorable weather, high water usage, skilled labor, and high soil fertility. Furthermore, there is an increase in the demand for vertical farming, owing to different factors such as optimum use of vertical space, balanced energy utilization, and growth in urban population, which requires organic food. In addition, surge in adoption of technology-driven vertical farming in the developing countries is expected to provide lucrative opportunity for the market growth. Moreover, increase in population leads to rise in demand–supply gap for food. Thus, the need for alternative farming techniques such as vertical farming is becoming a latest Canada crop micronutrients trends.
Talk to our Analyst @ https://www.alliedmarketresearch.com/connect-to-analyst/10719
However, lack of awareness among farmers regarding dosage and proper application of micronutrients, and availability of cheap alternatives & counterfeit products are expected to restrain the Canada crop micronutrients market growth. Conversely, adoption of new methods of farming for enhancing profitability is anticipated to fuel the demand for micronutrient fortified products.
With the sudden outbreak of COVID-19 pandemic, Canada had imposed lockdown and curfew, which have negatively impacted lifestyle, health, & well-being, and the manufacturing industry. Moreover, due to the global health crisis, the availability of labor has been reduced and farmers had limited access to farms, which further affected crops production. Furthermore, implementation of lockdown and curfew practices globally is affecting the domestic production of crop micronutrients, which, in turn, hampers the growth of the overall market. Thus, the outbreak of COVID-19 has negatively impacted Canada crop micronutrients market share in 2020, as sale of companies has declined and operations have been halted.
Make a Direct Purchase @ https://www.alliedmarketresearch.com/checkout-final/cd2ab812c9d96b1b454f16a6664020bf
Key Findings Of The Study
By form, the chelated segment dominated the Canada crop micronutrients market demand in 2019, and is expected to retain its dominance throughout the forecast period.
Depending on product type, the zinc segment accounted for highest share in the Canada crop micronutrients market growth in 2019, and is projected to grow at a CAGR of 10.1% from 2021 to 2027.
On the basis of crop type, the cereals & grains led the Canada crop micronutrients market analysis in 2019, and is expected to maintain this trend in the near future.
As per application, the soil segment dominated the market in 2019, and is expected to retain its dominance throughout the forecast period.
Top market players in the Canada crop micronutrients industry include Agriculture Solutions, Inc., Akzo Nobel N.V., BASF SE, Compass Minerals International Inc., Concentric Ag, Nutrien Ltd., Omex Agriculture, Inc., The Mosaic Company, Univar Solutions Inc., and Yara International ASA.
>Browse Related Reports According to the Category:
>Aquaculture Market
>Biopesticides Market
David Correa
Allied Analytics LLP
+ +1 800-792-5285
email us here
Visit us on social media:
Facebook
Twitter
LinkedIn