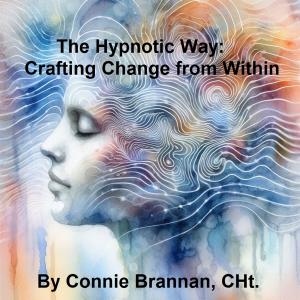 The Hypnotic Way
Connie Brannan, CHt. & Licensed Trainer of NLP®
Unveiling the Secrets of the Mind for Personal Growth and Empowerment
My goal with 'The Hypnotic Way' is to demystify hypnosis and shine a light on its power and success."
— Connie Brannan
BELLEVUE, WASHINGTON, UNITED STATES, November 18, 2023 /EINPresswire.com/ — Connie Brannan, CHt., an acclaimed hypnotherapist and Licensed Trainer of NLP®, is thrilled to announce the release of her new book, "The Hypnotic Way," now available on Amazon in Kindle and paperback formats. This groundbreaking book offers readers an in-depth exploration of the transformative power of hypnosis.
Connie Brannan comments on the release: "My goal with 'The Hypnotic Way' is to demystify hypnosis and shine a light on its power and success. It deserves to be higher on the 'go to' list of ways to achieve goals. I believe that harnessing the power of our subconscious minds is amazing and effective for any kind of personal transformation."
"The Hypnotic Way" is drawn from Connie's years of experience and success in the field of hypnotherapy operating her clinical hypnosis clinic, Mindworks Hypnosis & NLP, and state licensed career school, Mindworks NLP. The book delves into the practical applications of hypnosis and NLP, offering readers unique insights into how these techniques can be used to foster personal growth and overcome life's challenges.
With a focus on accessibility, "The Hypnotic Way" is written for newcomers to the world of hypnosis. The book provides actionable guidance and real-world examples, demonstrating the profound impact hypnotherapy can have on improving mental health, breaking bad habits, and enhancing overall well-being.
Connie's expertise shines through in each chapter, making "The Hypnotic Way" an invaluable resource for anyone interested in the transformative potential of hypnotherapy. The book's release is timely, as more individuals seek alternative and holistic approaches to personal development and self-improvement.
"The Hypnotic Way" is more than just a book; it's a journey into the depths of the mind, offering a roadmap for those seeking to harness the power of their subconscious to effect positive change in their lives.
Available now on Amazon, https://www.amazon.com/dp/B0CNL2FWYM "The Hypnotic Way" promises to be a valuable addition to the libraries of those fascinated by the power of the mind and the potential of hypnotherapy.
Connie Brannan
Mindworks Hypnosis & NLP
+1 425-564-8608
email us here
Visit us on social media:
Facebook
Twitter
LinkedIn
Instagram
YouTube
Other