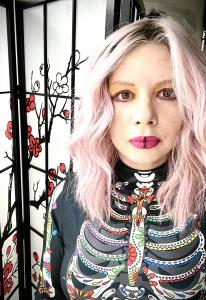 Nyle Kai at home in 2023.
Angels of Desolation will release 'From the Shoulders of Stallions,' a meditative healing poem in a time of brutality and war, in early 2024.
MONTPELIER, VERMONT, UNITED STATES, November 17, 2023 /EINPresswire.com/ — Angels of Desolation is a spoken word electronica band known for its unique brand of erotic poetry and cinematic soundscapes, with airplay on BBC Radio and a solid social media following. The British-American duo has announced a deep thematic change for their upcoming project, titled 'From the Shoulders of Stallions.' Inspired by the events of October 7, 2023, this soulful track presents itself as a meditative healing poem in a time of brutality and war.
Author, poet, and lyricist Nyle Kai has had an intimate relationship with trauma for most of her life. Her semi-autobiographical books include '5 of Swords' and 'Bathe Me in Firelight,' and these works have helped her heal from the deep personal wounds of bullying, violence, drug abuse, sexual trauma, and psychiatric hospitalization. Kai is a firm believer in writing as therapy, and she publishes works in progress plus a diary of her creative process on Patreon.
For Kai, poetry is a coded diary of her most personal pain. But the depraved brutality of the attack on an Israeli music festival on October 7, 2023, struck her so profoundly that she spontaneously created a new free verse work to completion in only twenty minutes. The next Angels of Desolation track will be a prayer for mass healing, and it is also the start of a new direction for the band.
Nyle Kai got her start on the Boston poetry scene, performing in nightclubs while working in an art supply store by day. However, she did not post her poetry on social media until the summer of 2020, and then it wasn't long before her words caught the attention of the music industry. Rob G Nichols, a British electronica composer and producer, reached out to Kai online, and Angels of Desolation released their first track, 'California Nights' in May 2022. Kai recorded the main vocals in a single take, and the track went to BBC radio.
Angels of Desolation has since released three more erotically-themed tracks, most notably, 'Bathe Me in Firelight,' which Kai originally wrote to an obsessed fan. 'From the Shoulders of Stallions' represents a radical departure for the duo both thematically and musically, as this time, Kai may not just speak but also sing.
In addition to his work with Nyle Kai as Angels of Desolation, Rob G Nichols is notable for his solo projects, beautiful ambient soundscapes easily accessible under his own name. 'Clouds,' an uplifting single released in 2021, reflects Nichols' enduring theme of positivity in a world tarnished by uncaring governments, casual cruelty, and wars. Rob G Nichols has produced collaborative works with well-known electronica artists such as Ostel and Leroy Santiago. His full catalog is available on Spotify.
In 'From the Shoulders of Stallions,' Nichols continues his decades-long obsession with the soul. "I want to create something more experimental and challenging to people's ears. I've always tried to create music that diverges from the mainstream, run-of-the-mill fare. Now is the time to create a groundbreaking sound that also connects to the collective consciousness of the masses. We want to stir people's souls and uplift them."
'From the Shoulders of Stallions' will be released in early 2024. Instead of a coded diary of pain, it's a public prayer for healing. The poem opens with a scene of ecstatic love shadowed by the ominous specter of violence:
I don't know you
But I think I love you
Silent words
Fill the sky
Traced in starlight
And breathless highs
I'm awake at dawn
Dancing all night
Licking the sweat
From the shoulders of stallions
"I imagined festival goers filling their souls with ecstatic love, reaching for the purity of nature during their final night on the planet. I prayed that they entered the next world, whatever that may be, with the same sense of all-consuming joy," Kai says. "Artists will never be true politicians; the best we can do is try to spread a little love and understanding. There's already an abundance of pain in the world. I want to do my part to help shift the narrative."
Nyle Kai
Angels of Desolation
nylekai@nylekai.com
Visit us on social media:
Facebook
Instagram
YouTube
Other
Bathe Me in Firelight from Angels of Desolation