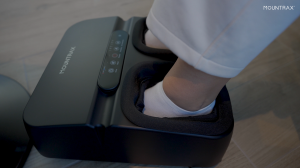 Enjoy Stress-relief with MOUNTRAX Foot Massager
MOUNTRAX Foot Massager Brings You Ultimate Comfort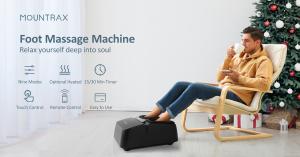 Mountrax Foot Massager for Holiday Gift
Shoppers can save 20% on solutions from MOUNTRAX Foot Massager that will keep them and loved ones warm and comfortable throughout the winter and beyond
NEW YORK, NEW YORK, UNITED STATES, November 18, 2023 /EINPresswire.com/ — MOUNTRAX Readies for the Holidays with Limited Time Black Friday Sales in November 2023
Shoppers can save 20% on solutions from MOUNTRAX Foot Massager that will keep them and loved ones warm and comfortable throughout the winter and beyond
The team at MOUNTRAX is thrilled to announce the official launch of their limited time Black Friday sales. These sales will go live on November 17, 2023, and are scheduled to run through November 27, 2023.
Shoppers will have just ten days to take advantage of this special sale which gives customers 20% off their MOUNTRAX orders when they purchase exclusively through Amazon.
MOUNTRAX is a premier healthy lifestyle company focused on promoting well-being and comfort through a specially designed line of medspa products that include their signature foot massager, scalp massager, and heated eye mask. "We listen to voices from all walks and attach great importance in quality control to bring our development to a higher level," said a spokesperson at MOUNTRAX.
The company's commitment to quality medspa products is evidenced by thousands of five star ratings on Amazon. MOUNTRAX's best selling product, their Foot Massager Machine with Heat, has received 1,721 high ratings on the Amazon platform to date and has become a go-to for gift givers.
The MOUNTRAX Foot Massager Machine with Heat is an ideal gift for men and women alike, featuring thoughtfully designed benefits for anyone looking to relieve foot pain including the discomfort produced by plantar fascitis, neuropathy, muscle tension, and foot fatigue. This deep kneading Shiatsu massager features 9 patterns, including three kneading intensities and three air compression intensities, plus heating up to 122℉ that can be toggled on and off for the ultimate custom foot massage. The massager can accommodate feet up to a men's size 12.
Designed for the ultimate in comfort, the MOUNTRAX Foot Massager Machine features two independent rolling heads, numerous small massage heads, and air compression with low-noise. A built-in timer offers 15 and 30 minute interval options. Users can get started using either the foot massager's touch panel or the included remote control.
Zippered foot covers can be easily removed for hand washing or machine washing. The MOUNTRAX Foot Massager Machine with Heat comes in four color options: black, blue, gray, and white and includes a dedicated adapter, user manual, and 1 year after-sales service.
The MOUNTRAX Foot Massager Machine with Heat will be included in the lineup of Black Friday deals on Amazon in November. Shoppers can take advantage of the exclusive Black Friday offer(20%off): BCYZRUSU when they order between November 17 – 27, 2023.
ABOUT MOUNTRAX
MOUNTRAX inspires healthy lifestyles with a carefully curated range of medspa products including their signature foot massager, scalp massager, and heated eye mask.
Alex
MOUNTRAX
marketing@mountrax.net
Visit us on social media:
Facebook
Instagram
YouTube
Mountrax Foot Massager