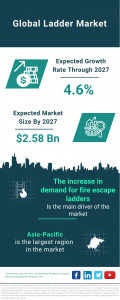 Ladder Global Market Report 2023 – Market Size, Trends, And Global Forecast 2023-2032
The Business Research Company's Ladder Global Market Report 2023 – Market Size, Trends, And Global Forecast 2023-2032
The market size of the global ladder is expected to grow to $2.58 billion in 2027 at a CAGR of 4.6%."
— The Business Research Company
LANDON, GREATER LANDON, UK, November 17, 2023 /EINPresswire.com/ — The global ladder market, projected to expand from $2.04 billion in 2022 to $2.16 billion in 2023, is set to register a substantial compound annual growth rate (CAGR) of 5.8%. Despite the disruptive impact of the Russia-Ukraine conflict and the ongoing consequences of the COVID-19 pandemic, the market is poised to attain a significant valuation of $2.58 billion by 2027. This growth is driven by the increasing demand for fire escape ladders, particularly in the wake of the escalating number of residential fire incidents globally.
Rising Demand for Fire Escape Ladders Propels Market Growth
The surge in demand for fire escape ladders is playing a pivotal role in propelling the overall growth of the ladder market. These portable fire escape devices serve as essential safety equipment, enabling quick and safe evacuation during emergencies. With an increasing number of residential fire incidents globally, the necessity for fire escape ladders has become paramount. According to the National Fire Protection Association (NFPA), municipal fire departments in the United States responded to 1.4 million fires in 2020, leading to significant casualties and property damage. This underscores the critical need for efficient and reliable fire escape solutions, thus contributing to the growth of the ladder market.
Explore comprehensive insights into the global ladder market with a detailed sample report:
https://www.thebusinessresearchcompany.com/sample.aspx?id=5708&type=smp
Key Market Players and Notable Trends
Leading players, including Werner Co, Louisville Ladder, and Alaco Ladders, are actively participating in strategic collaborations and partnerships to foster growth opportunities and expand their market reach. Notably, Industrial Opportunity Partners' investment in Little Giant Ladder Systems in January 2021 and Custom Service Hardware's acquisition of Putnam Ladder Co., Inc. in February 2021 exemplify the growing trend of strategic partnerships and collaborations, facilitating the introduction of advanced and innovative ladder solutions to meet evolving consumer needs.
Segments:
• Product: Step Ladders, Step Stools, Extension Ladder, Folding Ladder, Platform Ladder, Other Products
• Material: Aluminum, Fiberglass, Steel, Wood
• End-Use Industry: Domestic, Commercial, Industrial
Geographical Insights: Asia-Pacific Leading the Market
Asia-Pacific stands as the largest region in the ladder market in 2022, reflecting robust demand and a thriving industrial landscape. With a forecasted rapid growth rate, Asia-Pacific is expected to emerge as the fastest-growing region during the forecast period, presenting lucrative opportunities for market expansion and development.
For a comprehensive analysis of regional dynamics, market trends, and growth prospects, access the complete report:
https://www.thebusinessresearchcompany.com/report/ladder-global-market-report
Ladder Global Market Report 2023from TBRC covers the following information:
• Market size date for the forecast period: Historical and Future
• Market analysis by region: Asia-Pacific, China, Western Europe, Eastern Europe, North America, USA, South America, Middle East and Africa.
• Market analysis by countries: Australia, Brazil, China, France, Germany, India, Indonesia, Japan, Russia, South Korea, UK, USA.
Trends, opportunities, strategies and so much more.
The Ladder Global Market Report 2023 by The Business Research Company is the most comprehensive report that provides insights on ladder market size, ladder market drivers and trends, ladder market major players, ladder market competitors' revenues, market positioning, and ladder market growth across geographies. The ladder market report helps you gain in-depth insights on opportunities and strategies. Companies can leverage the data in the report and tap into segments with the highest growth potential.
Browse Through More Similar Reports By The Business Research Company:
Wood Products Global Market Report 2023
https://www.thebusinessresearchcompany.com/report/wood-products-global-market-report
Metal Products Global Market Report 2023
https://www.thebusinessresearchcompany.com/report/metal-products-global-market-report
Metal Valve Global Market Report 2023
https://www.thebusinessresearchcompany.com/report/metal-valve-global-market-report
About The Business Research Company
The Business Research Company has published over 3000+detailed industry reports, spanning over 3000+ market segments and 60 geographies. The reports draw on 1,500,000 datasets, extensive secondary research, and exclusive insights from interviews with industry leaders.
Global Market Model – Market Intelligence Database
The Global Market Model, The Business Research Company's flagship product, is a market intelligence platform covering various macroeconomic indicators and metrics across 60 geographies and 27 industries. The Global Market Model covers multi-layered datasets that help its users assess supply-demand gaps.
Contact Information
The Business Research Company
Europe: +44 207 1930 708
Asia: +91 8897263534
Americas: +1 315 623 0293
Email: info@tbrc.info
Check out our:
LinkedIn:https://in.linkedin.com/company/the-business-research-company
Twitter:https://twitter.com/tbrc_info
Facebook: https://www.facebook.com/TheBusinessResearchCompany
YouTube: https://www.youtube.com/channel/UC24_fI0rV8cR5DxlCpgmyFQ
Blog:https://blog.tbrc.info/
Healthcare Blog:https://healthcareresearchreports.com/
Global Market Model: https://www.thebusinessresearchcompany.com/global-market-model
Oliver Guirdham
The Business Research Company
+44 20 7193 0708
info@tbrc.info
Visit us on social media:
Facebook
Twitter
LinkedIn
Vegan Protein Powder Market Growth Forecast 2023-2027