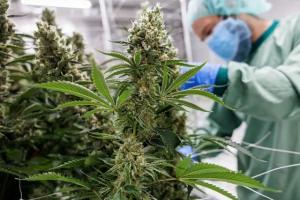 Understanding the Legal Landscape of Cannabis in Costa Rica
Traveler awareness and safety are our top priorities. Our guide on marijuana laws is part of our commitment to ensuring our clients have all the necessary information for a secure and enjoyable trip."
— Casey Halloran, CEO of Costa Rican Vacations
SAN JOSé, COSTA RICA, November 17, 2023 /EINPresswire.com/ — Recently named the 2024 Destination of the Year by Travel and Leisure, Costa Rica is gearing up for its high season, thanks to its inviting warm climate. This recognition is expected to significantly boost tourism. In light of this, our Travel Consultants are increasingly addressing queries from U.S.-based travelers regarding the current legal status of Cannabis in Costa Rica. While some are more hesitant to ask than others, a common thread among these inquiries is the confusion caused by the country's intricate legal position on cannabis.
This press release aims to provide clear and concise information about the current legal status of cannabis in Costa Rica, both for medical and recreational use.
Background: The 'Green' Scene in Costa Rica
Costa Rica, known for its stunning beaches and biodiverse rainforests, also has a complex legal landscape regarding cannabis. A full year after changes in legislation concerning medical marijuana, very little has changed on the ground, except for piqued interest of travelers and residents alike.
Current Legal Landscape: What the Law Says
In Costa Rica, the use of recreational marijuana continues to be illegal following a 5-3 vote by The Permanent Special Environment Commission in August 2023. This vote rejected an initiative from the Executive Branch to legalize and regulate the production, sale, and use of recreational marijuana. Despite this, the country has made significant strides in legalizing medical marijuana. This legalization comes with strict guidelines, including the necessity for proper documentation for those seeking medical relief through cannabis. It's important to note that public consumption of marijuana, even for medical purposes, is still prohibited.
Medical Marijuana in Costa Rica: Progress and Regulations
Costa Rica has recently seen substantial progress in the legalization of medical marijuana, with legislative changes enabling the medical and therapeutic use of cannabis. The government aims to support rural sectors through the promotion of medical cannabis cultivation, indicating a cautious yet progressive approach towards wider legalization.
CBD in Costa Rica: Legal Purchase and Safety Tips
The Costa Rican market has seen a surge in the availability of legal CBD products, following guidelines from the Ministry of Health. These products, including popular brands like Osmosis CBD, are legally available in local pharmacies and airports, provided they have a valid sanitary license and maintain THC content below 0.03%.
The Gray Areas: Understanding Vagueness in Narcotics Laws
Despite the prohibition of recreational marijuana, the enforcement of these laws varies. The Narcotics Law No. 8204 prohibits large-scale production and sale, but there's a degree of tolerance for modest private use due to the law's ambiguity in defining a 'small dose.' Law enforcement, primarily the Fuerza Pública, typically confiscates small amounts, with larger quantities leading to more severe consequences. The article further explains the potential legal ramifications of possession and use, emphasizing the importance of adhering to local laws for a trouble-free vacation.
Looking Ahead: The Future of Cannabis in Costa Rica
While the speculation and discussion about the future of recreational cannabis use in Costa Rica continues, it is essential for visitors and residents to adhere to current laws and regulations. Costa Rican Vacations encourages travelers to stay informed and compliant with Costa Rican regulations, promoting a safe and respectful tourism culture. Their comprehensive guide serves as an invaluable resource for those planning to visit this tropical paradise.
Sources / Read More
"Costa Rica Marijuana Laws" by Central America Living
Jelena Radic
Tourism For Costa Rica
email us here
Visit us on social media:
Facebook
LinkedIn
Instagram