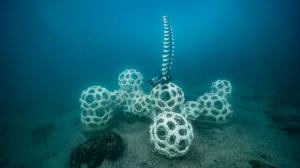 MEXICO CITY, MEXICO, November 17, 2023 /EINPresswire.com/ — This project under Maria Jose Cadena's leadership in collaboration with artist Gilberto Esparza is a unification of art, science, and ecology that seeks to inspire global conservation efforts.
Deep Blue Tech Foundation, a trailblazer in merging innovation and conservation, is at the forefront of a groundbreaking initiative named Korallysis. Led by the visionary Maria Jose Cadena, the Foundation collaborates with renowned artist Gilberto Esparza to address the urgent issue of coral reef degradation. The initiative aims not only to reverse the alarming decline of coral reefs but also to educate and inspire global communities about the significance of marine ecosystems.
Korallysis is a fascinating blend of art, science, and engineering, transforming environmental conservation into an engaging, interactive experience. Maria Jose Cadena expresses her passion for the cause, stating, "Korallysis is not just about saving coral reefs; it's about reimagining our relationship with the natural world."
The project's impact is profound, as coral reefs support an estimated 25% of all marine species and contribute significantly to the global economy. Deep Blue Tech Foundation is not only funding coral restoration but also fostering a movement of ocean guardians, encouraging individuals, businesses, and organizations to join the Foundation in this critical endeavor.
As part of its fundraising efforts, the Foundation has launched a donation campaign on its website http://deepbluetech.org. Interested parties are invited to contribute to this noble cause, bringing people closer to a future where coral reefs thrive once more.
About Deep Blue Tech Foundation
Deep Blue Tech Foundation pioneers the fusion of innovation and conservation, spearheading projects like Korallysis. Led by Maria Jose Cadena, the Foundation collaborates with artist Gilberto Esparza to revolutionize coral reef restoration, blending art, science, and engineering. Join this mission today follow us on instagram : @deepbluetech_
Maria Jose Cadena
Deep Blue Tech Foundation
majo@deepbluetech.org