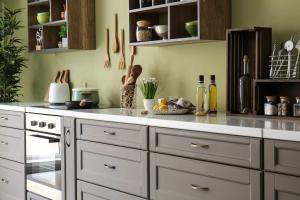 Leading Kitchen Design Expert T.W. Ellis Anticipates a Shift Towards Vibrant Greens, Beverage Stations, and Enhanced Islands
FOREST HILL, MD, UNITED STATES OF AMERICA, November 17, 2023 /EINPresswire.com/ — Forest Hill, 11/17/23 – In an era where kitchens are the heart of the home, T.W. Ellis, a prominent name in the field of kitchen design, anticipates a departure from minimalistic trends and a resurgence of personality and functionality in 2024.
1. Go Green: Elevate Your Kitchen with a Splash of Color
T.W. Ellis predicts that green is set to dominate kitchens in 2024, breaking away from the traditional white-dominated spaces. This trend extends beyond eco-friendly considerations to embrace a variety of green shades, transforming cabinets, countertops, and walls. From glamorous olive green paired with marble countertops to a more earthy vibe with dark green cabinets and butcher block countertops, the options are limitless.
2. Return of the Beverage Station: The Ultimate Kitchen Upgrade
The station, making a strong comeback, is touted as a must-have feature in modern kitchens. Serving both functional and decorative purposes, the beverage station provides additional storage and a dedicated space for drink preparation and service. Open shelves for displaying glassware, a small wine or beer fridge, and a storage cabinet make this area perfect for entertaining guests. Customization options abound, allowing homeowners to match the station with the overall kitchen design or create a unique focal point.
3. Stainless Steel Reigns Supreme: Timeless Versatility in Appliances
While kitchen trends come and go, T.W. Ellis recognizes stainless steel appliances as a steadfast choice. Praised for its timeless, ultra-modern aesthetic, stainless steel seamlessly integrates with various design styles. Despite brief challenges from white or black alternatives, stainless steel has proven its enduring popularity due to its adaptability and compatibility with diverse kitchen aesthetics.
4. Functional Islands: The Epicenter of Modern Kitchens
Kitchen islands continue to evolve, becoming larger and more multifunctional in 2024. Serving as the focal point of contemporary kitchens, T.W. Ellis islands now feature increased storage, wrap-around seating, electrical outlets, and expanded meal prep space. T.W. Ellis recognizes the growing importance of islands, often replacing traditional breakfast nooks, and emphasizes their potential for unique design elements. Islands can now showcase contrasting colors, distinctive slabs of stone, or standalone designs, adding a touch of individuality to the kitchen space.
T.W. Ellis invites homeowners to explore these exciting kitchen design trends in their 2024 renovations.
About T.W. Ellis:

T.W. Ellis is a renowned name in the field of kitchen design, committed to providing innovative and personalized solutions for homeowners. With a focus on blending style and functionality, T.W. Ellis continues to lead the way in transforming kitchens into dynamic, inviting spaces.
Houston Harris
FreshRobot
email us here