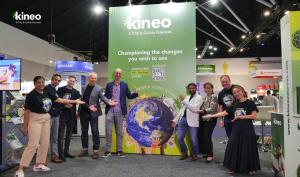 Kineo Staff at the HR + L&D Innovation and Tech Fest
In today's business landscape, where sustainability & social accountability are paramount, the launch of Kineo's ESG Training Suite signifies a momentous stride
Organisations who are looking to support a journey towards ESG best practice will find Kineo's Foundation Courses to be the perfect complement to embracing a ground up culture shift."
— Daniel Potter, Global Head of Product, Kineo Courses
AUSTRALIA, November 17, 2023 /EINPresswire.com/ — At the HR + L&D Innovation and Tech Fest, November 2023, Kineo proudly initiates the soft launch of its groundbreaking Environmental, Social, and Governance (ESG) training suite. The inaugural set of courses, developed in collaboration with subject matter experts City & Guilds and Good & Green, is designed to meet the urgent and evolving needs of modern businesses. This signifies the initiation of Kineo's efforts to providing practical learning solutions for the smooth integration of ESG principles into business operations and culture.
Vicky Bartolacci, Executive Director, Global commented, "As workplaces evolve, the imperative for a deeper understanding of ESG principles becomes evident. Our goal is to equip businesses with robust tools to integrate these principles effectively."
Why ESG Training?
In today's business landscape, where sustainability and social accountability are paramount, the launch of Kineo's ESG Training Suite signifies a momentous stride. Developed in collaboration with the expertise of City & Guilds and Green & Good, this educational collection addresses a crucial demand in the market. The suite offers a comprehensive program designed to assist businesses in adopting practices that are both sustainable and ethically sound. It is thoughtfully designed to provide businesses with essential competencies and insights required to initiate positive change in important domains such as environmental stewardship, social equity, and principled leadership.
A Comprehensive ESG Learning Solution
Continuing Kineo's tradition of driving behavioural change through impactful learning experiences, the ESG courses blend world-class technology with advanced learning
principles. These courses ensure that relevant knowledge is not just transferred but actively applied in the workplace.
This ESG suite offers courses suitable for both foundational and advanced levels.
1. Foundation Courses: Tailored for the wider workforce, these courses offer a holistic view of ESG topics and highlight tangible strategies for individuals to support environmental initiatives. Six ESG Foundation courses are released today, with eight more to be added from now until 1 March 2024 when the full Foundation course library is introduced.
2. Advanced Courses: Set to release in 2024, these in-depth courses are designed for senior leaders, policymakers, and middle management, addressing the intricacies of ESG to prepare leaders for informed decision-making.
"To build tangible momentum, your people should be able to relate to and understand the issues at hand. Organisations who are looking to support a journey towards ESG best practice will find Kineo's Foundation Courses to be the perfect complement to embracing a ground up culture shift. In today's soft launch, we extend an invitation to explore our ESG training suite available now for both trial and implementation.", Daniel Potter, Global Head of Product, Kineo Courses, shared at the HR + L&D Innovation and Tech Fest today in Sydney.
Globally Relevant and Regionally Agile
Responding to the global urgency for responsible business practices, Kineo's ESG suite is versatile and adaptive, ready to address specific regional and market needs as they evolve.
Early Adopter Program
Kineo invites organisations to join its Early Adopter Program and enjoy exclusive benefits, including:
• Up to 50% off Kineo's ESG Training Suite of 14 courses, with 6 courses available immediately.
• Access new courses as they are released with full ESG suite due March 2024.
• Annual subscription only commences 1 March 2024
The Early Adopter benefit is valid until 29 February 2024.
This limited-time offer demonstrates Kineo's dedication to fostering a culture of sustainable growth and ethical leadership in the business community.
Closing Remarks
Kineo's introduction of the ESG training suite is a pivotal step in helping businesses address crucial elements of sustainability and ethical governance. This move aligns with the evolving expectations of stakeholders and investors, strengthening the core values and operational excellence of participating organisations.
For more information and to join the Early Adopter Program, please visit www.kineocourses.com/esgtraining
About Kineo
Kineo is a global workplace learning company dedicated to enhancing business performance through innovative learning and technology solutions. Our comprehensive, consultative services cover learning and development strategy, tailored elearning content, off the shelf courses, and a range of learning technology solutions – from learning management systems to talent experience platforms. We empower organisations to thrive in the evolving landscape of learning and development, driving success through knowledge and skills acquisition.
www.kineo.com | www.kineocourses.com
Celine Dang
Kineo
+61 401 834 048
celine.dang@kineocourses.com.au
Visit us on social media:
Facebook
Twitter
LinkedIn
YouTube