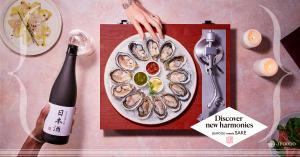 JFOODO showcases the new harmony created by pairing Japanese sake with raw oysters.
NEW YORK, NY , USA, November 17, 2023 /EINPresswire.com/ — JFOODO (the Japan Food Product Overseas Promotion Center) today announces the official launch of its nationwide promotional campaign inviting consumers to discover new harmonies and explore sake and seafood pairings at participating restaurants. As part of the campaign, JFOODO also debuts sake and seafood promotional materials, including key visuals and a beautiful video highlighting sake craft meeting chef seafood creations to create unparalleled harmonies.
Inspired by the campaign's tagline – "Seafood meets sake. Discover new harmonies." – all promotional materials follow a musical theme. The campaign video features jazz music playing in the background. The visuals include turntables transformed into plates and a brace bringing the harmony of sake and seafood pairings, such as oysters, lobster, and grilled cod.
Featured on the campaign website, the video showcases master artisans in Japan harvesting rice for sake, and fishermen in New York harvesting oysters, with a chef creating the final symphony pairing sake with seafood. Crafted from carefully selected rice and water, sake flavors vary according to the climate and local geography. These unique characteristics are harnessed by Japan's master artisans, such as those featured in the video, to craft a wide range of complex and unique sake. When paired with seafood, it creates a harmony that transforms an otherwise ordinary meal into a treat for the senses.
Watch the full video here: https://youtu.be/l2Av0BukDUM?si=0XCxdQvD1ZWUALL9.
Known to heighten the "umami" in each dish, sake enhances flavor components bringing out the unique flavor of fish. While Japanese sake has been loved for many generations, more non-Japanese restaurants are discovering sake's versatility when paired with seafood and one can now find it on the menu at Michelin-starred restaurants around the world. The JFOODO sake and seafood promotions include a growing number of partner restaurants in New York, Los Angeles, and San Francisco starting this month.
JFOODO invites consumers to let the table be the stage and consider pairing a glass of sake with seafood at partner restaurants. Information about the sake and seafood campaign can be found by visiting the promotional website: https://sake-jfoodo.jetro.go.jp/us.
Link to more images available here.
ABOUT JFOODO

JFOODO (The Japan Food Product Overseas Promotion Center) was established by the Japanese government in 2017 with the aim of boosting the export of Japanese agricultural, forestry, fishery, and food products by branding them and promoting them widely around the world. JFOODO was named with the hope and vision of increasing awareness of Japanese food and winning fans for it all over the world, in the same way that other Japanese cultures do.
Nerissa Silao
Karsha Chang Public Relations
310-874-9230
nerissa@karshachangpr.com