The much-anticipated 2024 Savannah Music Festival is just around the corner, promising an incredible line-up of various genres and musical performances. With over 70 concerts and venues scattered throughout the city, including the iconic Lucas Theater, this year's festival truly showcases the rich tapestry of American and global music.
According to Ryan McMaken, the Artistic Director of the Savannah Music Festival, the lineup for this year's event exudes an international flair. He shares, "Music ranging from jazz to classical music, getting the best of American and global rich music." With acts spanning a wide range of genres, this festival guarantees to satisfy diverse musical tastes.
click to enlarge
Some of the highlights are Samara Joy, The Futurebirds, and Ricky Skaggs and Kentucky Thunder. These diverse and talented groups represent the breadth and depth of the festival's musical offerings, showcasing the power and beauty of music from various styles and eras.
Samara Joy, a rising star in the jazz world, brings her soulful vocals and captivating stage presence to the festival. Her fresh interpretation of classic jazz standards has earned her critical acclaim and numerous awards, including two Grammy Awards in 2023. Joy's performance promises to be an unforgettable evening of timeless music and heartfelt connection.
Many Savannah residents will be excited to learn that The Futurebirds, an Athens-based indie rock band, will ignite the festival with their energetic live performances and infectious melodies. Their blend of indie rock, Americana, and folk has captivated audiences, earning them a reputation as one of the most exciting and innovative bands in the genre. 
Ricky Skaggs and Kentucky Thunder, a legendary bluegrass ensemble, will grace the festival stage with their virtuosic instrumental playing and deep reverence for bluegrass traditions. Led by mandolin virtuoso and vocalist Ricky Skaggs, a 15-time Grammy Award winner, the band has been captivating audiences for over four decades. Their seamless blend of traditional bluegrass elements with contemporary influences creates a sound that is both familiar and refreshingly new.
Gene Dobbs Bradford, the executive director of the Savannah Music Festival, expresses his admiration for the event's ability to bring the world of music right to Savannah's doorstep. "One of the things that I've always loved about the Savannah Music Festival is that we present a world of music right here in Savannah," he says. This festival is not only an opportunity to explore music from around the globe but also a chance to immerse oneself in the richness of American cultural expression.
click to enlarge
Bradford emphasizes the importance of embracing the beauty and depth of musical expression from different cultures. He states, "We have an outstanding lineup that includes classical music, jazz, global, and Americana." With an impressive array of artists representing eight or nine different countries, festival-goers will have the chance to discover the unique and captivating sounds from across the world.
Furthermore, Bradford highlights the unifying power of music, stating, "There's something beautiful that people can discover from all these different places. And I think that one of the things that you learn is how music really unifies us as a people."
The Savannah Music Festival aims not only to entertain but also to foster a sense of togetherness and shared appreciation through the universal language of music.
click to enlarge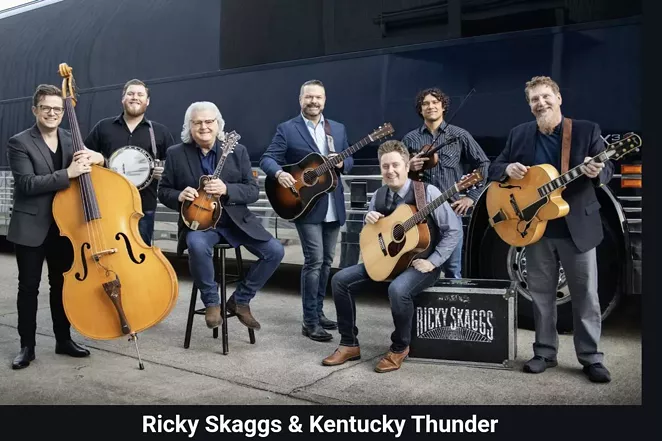 This is an exciting time for Savannah Music Festival as they also announce their groundbreaking partnership with Plant Riverside District, which will significantly enhance the live music experience in Savannah. Savannah Music Festival will now expand its offerings with year-round concerts at District Live, a state-of-the-art performance venue situated in Plant Riverside District.
This collaboration will commence in February 2024, providing music enthusiasts with even more opportunities to enjoy the Savannah Music Festival. This strategic alliance aims to support the arts, and inspire audiences to experience even more of Savannah's music scene.
This year's Savannah Music Festival is made possible by the overwhelming support of the community. Bradford acknowledges the community's immense contribution, remarking, "That's one of the reasons why I think the community has stepped up in such a large way to support and make this festival happen."
Their dedication to ensuring the success of this global celebration of music demonstrates the profound impact the festival has on the city and its residents.
As the 2024 Savannah Music Festival approaches, music enthusiasts eagerly await the opportunity to explore the diverse sounds that will reverberate throughout the city. From traditional jazz to contemporary melodies, classical symphonies to captivating global rhythms, this festival promises an immersive experience that will leave a lasting impact on all who attend. So, mark your calendars and get ready to be transported into a world of musical performances at the 2024 Savannah Music Festival.
For more information and to purchase tickets, visit: savannahmusicfestival.org
Savannah Music Festival 2024 Lineup:
(For a full lineup visit: savannahmusicfestival.org)
Saturday, March 23, 2024
Samara Joy
Thursday, March 28, 2024
Noon30: Lena Jonsson Trio
Oumou Sangaré
Lena Jonsson Trio/ Kieran Kane & Rayna Gellert
David Finckel, Cello & Wu Han, Piano
Friday, March 29, 2024
Noon30: Marta Pereira da Costa ft. Duarte
Germán López: ALMA / Marta Pereira da Costa feat. Duarte
Bayou Boogie! A Tribute to Clifton Chenier "The King of Zydeco" Feat. C.J. Chenier, Marcia Ball & The Red Hot Louisiana Band
Futurebirds / T. Hardy Morris
Sunday, March 31, 2024
Renée Fleming
Tuesday, April 2, 2024
Sebastian Knauer Celebrates Gershwin
Tisra: Zakir Hussain Trio with Debopriya Chatterjee and Sabir Khan
Wednesday, April 3, 2024
Warren Wolf & Wolfpack: History of the Vibes / Isaiah J. Thompson Quartet
Thursday, April 4, 2024
Noon30: Isaiah J. Thompson Duo
Stephane Wrembel Quartet / Tatiana Eva-Marie & Avalon Jazz Band
Philip Dukes & Friends I
Ricky Skaggs & Kentucky Thunder
Friday, April 5, 2024
Noon30: Stephane Wrembel
Dumpstaphunk / Cha Wa
Escher String Quartet
Doc and Earl: Doc at 100 / Tony Trischka's EarlJam
Crescent City Funk: Dumpstaphunk / Cha Wa
Saturday, April 6, 2024
Noon30: Tony Trischka
Cajun Dance Party: The Savoy Family Cajun Band
Philip Dukes & Friends II
Latin Dance Party: Orquesta Akokán
Sunday, April 7, 2024
Michael Collins & Friends
The Po' Ramblin' Boys / AJ Lee & Blue Summit
Tuesday, April 9, 2024
Kaia Kater / Viv & Riley
Philip Dukes & Friends III
Wednesday, April 10, 2024
Brandee Younger Trio / Immanuel Wilkins Quartet
Muddy and Wolf Revisited: A Tribute to Muddy Waters and Howlin' Wolf feat. Bobby Rush with North Mississippi Allstars
Thursday, April 11, 2024
Noon30: Brandee Younger Trio
Philip Dukes & Friends IV
Madison Cunningham & Juana Molina
Friday, April 12, 2024
Emanuel Ax
Matthew Whitaker
Mighty Poplar
Saturday, April 13, 2024
Island Prayers: Turtle Island Quartet
Soledad Barrio & Noche Flamenca: Searching for Goya