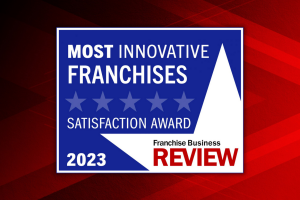 TSS Photography Awarded Most Innovative Franchise
Research Data Indicates Franchisees Value TSS Photography's Commitment to Creativity and Innovation
OKLAHOMA CITY, OK, UNITED STATES, November 16, 2023 /EINPresswire.com/ — TSS Photography has been recognized by Franchise Business Review as one of the elite 100 franchise brands to receive the accolade of an award-winning franchise in its 2023 report highlighting the Most Innovative Franchises.
TSS Photography, with its rich history and commitment to capturing memories, has consistently showcased its dedication to evolution, creativity, and adapting to the dynamic needs of the franchise sector.
Franchise Business Review stands out as a pioneering research firm focusing on independent evaluations of franchisee satisfaction. It is the exclusive platform offering franchise ratings grounded solely on feedback and performance assessments from actual franchisees. The firm annually unveils its rankings of leading franchises in the Guide to Today's Top Franchises and also publishes specialized guides throughout the year, spotlighting top-performing franchises in distinct segments.
The identification process for this year's Most Innovative Franchises encompassed an analysis of 18 months of feedback from approximately 38,000 franchisees, spanning over 385 brands. These franchise owners weighed in on topics like their brand's ingenuity, their trust in their franchisors, overall satisfaction, and their willingness to recommend the brand to others.
"For prospective franchisees, understanding which brands are the most innovative can help you make a confident and smart investment," said Michelle Rowan, president & COO of Franchise Business Review. "Each of the companies on our list of the Most Innovative Franchises has developed and implemented products, processes, or services that enable and sustain growth and long-term relevancy. We are proud to recognize the franchises that prioritize and value innovation to support their franchisees' success and the long-term resiliency of the brand."
TSS Photography franchisees were presented with 33 benchmark queries, diving deep into their experiences and satisfaction levels across pivotal areas within their franchise systems. These areas spanned leadership, training & support, operations, relations between the franchisor and franchisee, and financial opportunities. Our survey data indicates we scored 14% over the national benchmark.
"Receiving this honor isn't just a reflection of our brand's accomplishments, but a testament to the collective passion and dedication of every member of the TSS Photography family. I'm deeply humbled and grateful, and this recognition fuels our commitment to pushing the boundaries of creativity and excellence even further for our franchisees," said James Calabrese, Director of Franchising, TSS Photography.
Visit FranchiseBusinessReview.com to see the full list of the 2023 Most Innovative Franchises.
About TSS Photography
Since 1983, TSS Photography has been providing photographers across America with the resources and support needed to start and grow their own businesses. Specializing in youth sports, schools, and event photography, TSS offers an extensive range of photo finishing products, ensuring each photograph's quality and consistency. With its innovative, low-cost franchise model, TSS empowers photographers to book more business, earn more money, and work less.
About Franchise Business Review
Franchise Business Review (FBR) is a leading market research firm serving the franchise sector. FBR measures the satisfaction and engagement of franchisees and franchise employees and publishes various guides and reports for entrepreneurs considering an investment in a franchise business. Since 2005, FBR has surveyed hundreds of thousands of franchise owners and over 1,200 leading franchise companies. FBR publishes free and unbiased franchisee satisfaction research reports throughout the year online at http://www.FranchiseBusinessReview.com. To read our publications, visit https://franchisebusinessreview.com/page/digital-guides/.
James Calabrese
TSS Photography Franchising
+1 800-336-4550 ext. 114
email us here
Visit us on social media:
Facebook
LinkedIn