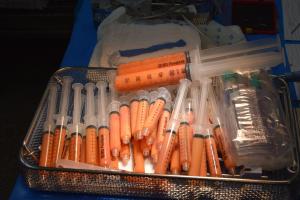 Make an informed decision when considering fat injections in the breasts.
Southern Aesthetics' Dr. Penelope Treece highlights risks in breast augmentation via fat injections, including cysts and imaging challenges.
Cysts and calcifications can lead to confusion in breast imaging, requiring additional diagnostic measures and potentially causing unnecessary anxiety for patients."
— Dr. Penelope Treece, MD
NEW ORLEANS, LOUISIANA, UNITED STATES, November 16, 2023 /EINPresswire.com/ — In an effort to promote patient education and advocate for informed decision-making, Dr. Penelope Treece, MD, owner of Southern Aesthetics, brings attention to the potential complications associated with fat injections for breast augmentation. While fat transfer procedures have gained popularity for their natural appearance and dual benefit of body contouring, Dr. Treece emphasizes the importance of understanding the risks involved.
One of the key concerns addressed by Dr. Treece is the formation of cysts and calcifications in breast tissue following fat injections. These formations not only complicate the interpretation of imaging results but also demand a nuanced approach to differentiate between benign and potentially problematic structures. "It's crucial for individuals considering fat injections to be aware of the challenges these formations pose. Cysts and calcifications can lead to confusion in breast imaging, requiring additional diagnostic measures and potentially causing unnecessary anxiety for patients," explains Dr. Treece.
In addition to imaging challenges, Dr. Treece highlights the volume dilemma associated with fat injections. Achieving a significant boost in breast volume may require multiple sessions, and even then, the results are more akin to a gentle swell than a tidal wave. "It's important for patients to have realistic expectations regarding the volume enhancement achieved through fat injections. The process may involve several sessions, and the outcome tends to be a subtle enhancement rather than a dramatic change," notes Dr. Treece.
Dr. Treece also touches on the potential for symmetry struggles and potential side effects experienced in patients undergoing fat injections for breast augmentation. Achieving perfect symmetry can be challenging, and patients should be aware that some degree of asymmetry may persist even after the procedure. Patients should be prepared for temporary side effects such as swelling and bruising. While these side effects are normal and expected, individuals need to be informed about the recovery process and the time it takes for these effects to subside. She advises that these are normal parts of the healing process, and patients should follow post-operative care guidelines to ensure a smooth recovery.
Furthermore, for those who have decided on undergoing the procedure, Dr. Treece underscores the importance of selecting a qualified and experienced surgeon for fat transfer procedures. A skilled surgeon can help mitigate risks and ensure that the procedure is performed with precision. It's crucial for individuals to thoroughly research and choose a board-certified professional who can provide comprehensive guidance throughout the decision-making process.
As a pioneer in the field of cosmetic surgery, Dr. Treece remains committed to patient safety and education. Southern Aesthetics continues to prioritize transparency and open communication with patients, empowering them to make informed decisions about their aesthetic journey.
About Southern Aesthetics:

Southern Aesthetics dedicates its practice to providing the highest level of quality in cosmetic surgery in a beautiful, comfortable, safe, and private environment. We have a dedicated, professional, and caring team in Metairie that takes pride in bringing out the you in be.YOU.tiful.
For media inquiries, interviews, or to schedule a consultation, please contact:

Penelope Treece, MD
Southern Aesthetics
+1 504-779-7749
info@ptreecemd.com
Visit us on social media:
Facebook
Twitter
Instagram