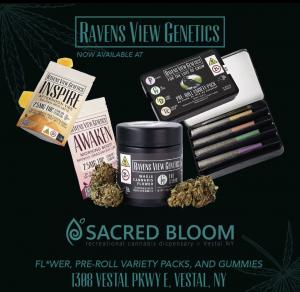 Cannabis Growers Showcase at Sacred Bloom Featuring Ravens View Genetics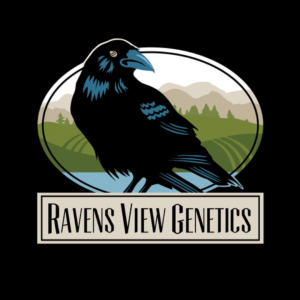 Ravens View Genetics Logo
Sacred Bloom Dispensary Logo
VESTEL, NY, USA, November 16, 2023 /EINPresswire.com/ — FOR IMMEDIATE RELEASE
Ravens View Genetics is thrilled to announce its participation in the highly anticipated Cannabis Growers Showcase, hosted by Sacred Bloom Dispensary in Vessel, NY, beginning on Friday, November 17th, 2023 at 1308 Vestal Pkwy E, Vestal, NY 13850.
The Cannabis Growers Showcase is not just an opportunity to procure premium Cannabis products; it's a chance to support local growers. The event will bring together some of the best producers in the industry including Ravens View Genetics, Ananda Farms, Chessworth Farms, Star Lit 420, Hindsight Farms, Flower City, NY FINCA, and Bison Botanics.
"One core message that we aim to convey through these showcases is the significance of buying local" says Joann Kudrewicz, CEO of Ravens View Genetics and Cannabis Association of New York, (CANY) Cultivation Committee Chair. "This approach isn't just about enjoying high-quality products; it's about supporting our communities and local economies. When consumers choose to buy local Cannabis, they directly contribute to the success of the NYS cultivators who have invested their time, energy, and resources to provide the best possible artisanal products. It's a testament to the dedication and passion of local growers who are deeply committed to their craft."
The benefits of events such as this are not limited to supporting local growers and nurturing local businesses. They significantly contribute also to reducing the carbon footprint associated with long-distance transportation, aligning perfectly with sustainable practices. By choosing locally grown Cannabis, consumers not only get exceptional products they also actively participate in promoting sustainability—a win-win scenario for all involved.
Ravens View Genetics is dedicated to this vision of sustainable, locally driven Cannabis Cultivation. "We take pride in our innovative methods and commitment to producing top-tier Cannabis products while actively contributing to the growth of the local community and the protection of our environment," says Kudrewicz.
The Cannabis Growers Showcase is not merely an event but a movement that invites everyone to be a part of a positive change in the Cannabis Industry. It's an opportunity to experience the finest Cannabis products while embracing the values of NY community support and sustainability.
Joann Kudrewicz
Ravens View Genetics
+1 917-969-0545
email us here
Visit us on social media:
Facebook
Instagram