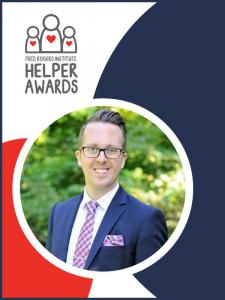 Greg Donnellan of Lawrence School, A Beacon in Special Ed, Honored with Fred Rogers Award
Greg Donnellan of Cleveland's Lawrence School wins the Fred Rogers Institute Helper Award, celebrating his dedication to children and education.
BROADVIEW HEIGHTS, OHIO, UNITED STATES, November 16, 2023 /EINPresswire.com/ — Greg Donnellan, Director of Enrollment Management at Lawrence School, has been selected as a recipient of the 2023 Fred Rogers Institute Helper Award.
Informed and inspired by the legacy of Fred Rogers, affectionately known worldwide as "Mr. Rogers," the Helper Award honors and recognizes individuals who care for children and communities in ordinary and extraordinary ways in their daily and professional lives.
"There are very few people for whom you can say they lived by what they said, and Fred Rogers was one of those individuals," said Lawrence Head of School Doug Hamilton. "He believed in the good of the individual and the responsibility we have toward children. The Fred Rogers Institute continues his beliefs, and we are thrilled to have Greg Donnellan recognized by them for the Helper Award. We are so very proud of him!"
Donnellan is one of 14 recipients nationwide to receive the award, which was launched this year in honor of the 20th anniversary of the Institute, in memory of Fred Rogers, and in thanks to the individuals we all look to as helpers.
"It is humbling to receive this prestigious award," Donnellan said, "and I feel honored to share the Fred Rogers Institute Helper Award with our community of teachers, staff, family, and students at Lawrence School who have created a culture of kindness and compassion. It is also an honor to reflect upon the positive influence of my own family and teachers along my journey, and Mr. Rogers' legacy inspires me to continue to grow as a servant leader."
As a recipient of the award, Donnellan becomes part of an esteemed community from across the nation, encompassing distinguished CEOs, educators, and first responders who embody Mr. Rogers' legacy of selfless leadership. Additional information on each awardee can be found on the Institute's website.
Donnellan has served Lawrence School – an independent, coeducational day school serving K-12 students with learning differences such as dyslexia, dysgraphia, and dyscalculia – in a variety of leadership roles over the last 16 years. Each of these experiences has prepared him to excel in his current role as the director of enrollment management. Donnellan leaves behind a positive legacy as the former director of middle school and Middle School Young Entrepreneur Program, and academic coach and music teacher at the Upper School. In addition to serving Lawrence School, Greg is also a board member for Heights Youth Theater in Cleveland Heights, Ohio, and a member of the Educators' Neighborhood cohort with the Fred Rogers Institute.
His genuine passion and unwavering commitment to serving the Lawrence School community have not only transformed classrooms but have also ignited a lifelong love for learning in countless students.
"I am so thrilled Mr. Donnellan is receiving this award," said Eli Manos '14. "The amount of opportunities he has given students – myself included – to perform and succeed both in various musical settings like the Cabarets and the school musicals just goes to show his drive to help children find success and to enjoy doing what they love to do. He has been one of my greatest mentors, and I can't think of another person who deserves it more."
Donnellan will be honored by representatives from the Fred Rogers Institute in an awards ceremony at Lawrence Upper School in Sagamore Hills, Ohio, on Friday, Nov. 17 at 8:30 a.m.
Laura Jones
Lawrence School
+1 330.908.6800
email us here