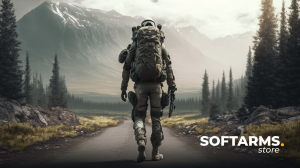 Quality Gear for Elevated Recreational Adventures: Where Excellence Meets Excitement
LITHUANIA, September 22, 2023 /EINPresswire.com/ — In the realm of thrilling recreational activities, Airsoft has emerged as an immersive and adrenaline-pumping pastime enjoyed by enthusiasts of all ages. It offers an engaging experience, from strategic military simulations to friendly skirmishes. For those seeking high-quality equipment and gear to enhance their Airsoft adventures, Softarms.store has emerged as a trusted resource. Launched in mid-August 2021, Softarms.store is dedicated to serving the Airsoft community by offering an extensive range of products and services.
Enhancing Safety on the Field
In the pursuit of recreational play, safety stands as a paramount concern in Airsoft, and Softarms.store addresses it comprehensively. They offer an extensive array of protective gear, including Protective Glasses, Masks, Tactical Vests, Pouches, Helmets, Knee Pads, Holsters, Radios, Belts, Hydration Systems, Slings, Swivels, Backpacks, and Bags. This ensures that players can enjoy their hobby while staying safe and comfortable, creating a secure foundation for every adventure.
However, Softarms.store goes beyond just the basics. Pads tactical protective assault take center stage as essential components of an Airsoft player's gear arsenal. Crafted with the utmost consideration for safety during high-intensity gameplay, these pads provide vital protection for areas like knees and elbows. They empower players to move with confidence, take cover strategically, and engage in tactical maneuvers without the worry of injury. These pads aren't mere accessories; they're indispensable tools that enable players to stay in the game and perform at their peak. From intense battles to securing strategic positions, these protective pads ensure readiness for action in every recreational scenario.
Customization and Maintenance: For those who enjoy customizing and maintaining their gear, Softarms.store provides an array of parts and accessories. This includes External and Internal parts, Gases, Batteries, Chargers, Barrels, Hop-Ups, Flashlights, Chronos, and much more.
Quality and Brands
Softarms.store places a strong emphasis on quality, offering products from renowned brands in the recreational gear industry. Partnering with brands such as Specna Arms, Tokyo Marui, OGEE, G&G, E&L, Miltec, Umarex, and KWA, they ensure that customers have access to reliable and high-performance equipment. This commitment to quality sets Softarms.store apart, allowing enthusiasts to make informed choices and invest in gear that elevates their experience.
A Novritsch Experience
Among the exceptional brands available, Novritsch deserves special mention. Novritsch, a renowned name in the recreational gear world, is synonymous with precision and performance. Their products, including accessories, have gained a cult following among enthusiasts seeking unparalleled accuracy and reliability. Whether you're looking to enhance your recreational gameplay or simply experience the thrill of precision gear, Novritsch offers an opportunity for an extraordinary recreational experience.
Miltec Airsoft: Elevating Recreational Adventures
Miltec Airsoft is a prominent name in the world of recreational gaming. Renowned for its commitment to excellence, Miltec Airsoft has been a trailblazer in the industry, offering a wide range of high-quality airsoft equipment and accessories. With a dedication to innovation and customer satisfaction, Miltec Airsoft enhances the recreational gaming experience for enthusiasts of all levels.
Community Engagement
Beyond being a retail destination, Softarms.store has plans to expand its services, aiming to become a hub where enthusiasts can not only purchase equipment but also access valuable resources, tutorials, and community events. By fostering a sense of camaraderie and knowledge-sharing, they aspire to enhance the recreational experience for both beginners and seasoned players alike. This year, they launched a marketplace offering a platform for individuals to buy and sell used recreational gear.
Unleash Potential: Gateway to Recreational Excellence
Softarms.store has rapidly established itself as a go-to resource in the recreational gear community. Their commitment to quality, extensive product selection, and dedication to enhancing the overall recreational experience have made them a favorite among enthusiasts. Whether you're a seasoned recreational player or just entering the world of tactical gameplay, Softarms.store is your trusted destination for gear and equipment. With their mission to continually expand and support the recreational gear community, they are poised to play an integral role in shaping the future of this exciting and immersive hobby.
Lukas
UAB Globalabc
email us here
Visit us on social media:
Facebook
Instagram