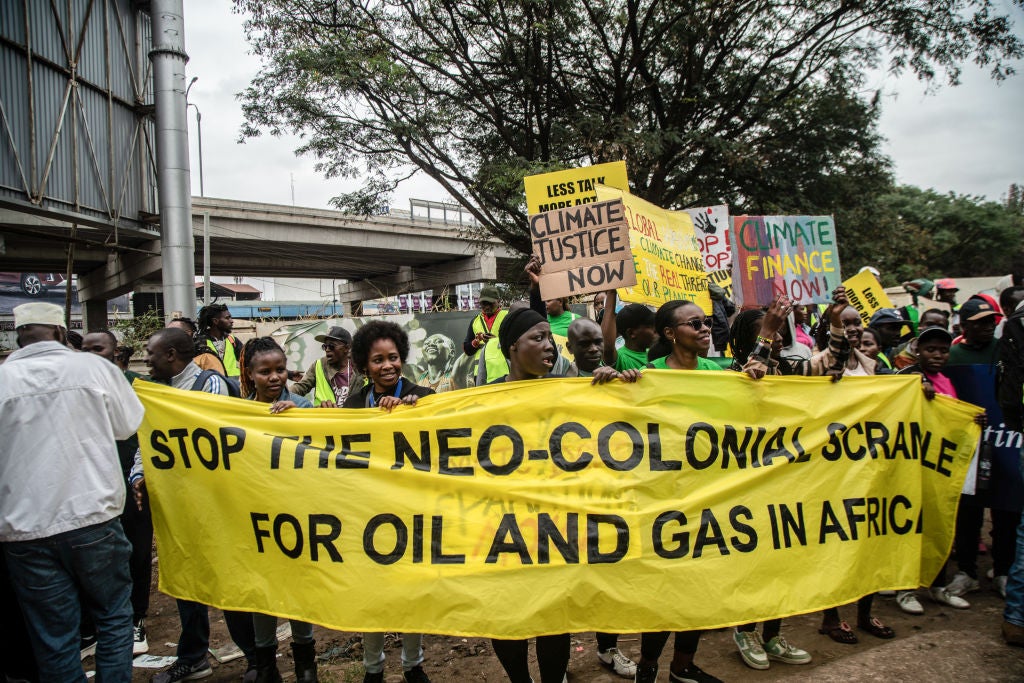 NAIROBI – As thousands of delegates gathered in Nairobi to discuss climate solutions at the annual Africa Climate Week, a vast new oil pipeline in neighbouring countries threatens to undermine the continent's climate ambitions, say activists.
The East African Crude Oil Pipeline – or EACOP – is set to link oil being pumped out of the ground in landlocked Uganda to the coast in Tanzania. 
The 1,443km pipeline is set to be the longest heated oil pipeline in the world. Its construction is spearheaded by French oil major TotalEnergies, which owns 65% of the project.
Tanzania and Uganda are among a number of African nations – including Namibia, Mauritania and Senegal – that are working with Western energy companies to develop oil and gas fields. They argue that the projects can be used to help fund development and boost energy access. 
But the size and cost of the $5bn EACOP means it has been beset by difficulties since its inception. 
Construction was slated to begin in 2022, but now the EACOP website says it will begin this year. Financing remains uncertain, with at least 24 banks distancing themselves from the project, and only two banks – Stanbic Uganda, and the Industrial and Commercial Bank of China – still attached to the project. 
At Africa Climate Week in Nairobi – one of four regional climate weeks held in partnership with the United Nations Framework Convention on Climate Change ahead of COP28 – activists were unequivocal in their disapproval of the project. 
"EACOP needs to be stopped, and banks need to stop financing the destruction of our future," Simon Kamara, Tanzania hub leader for the global activist group 10 Billion Strong, told Energy Monitor. 
"The project has already displaced thousands of people from their lands: Lands which communities depend on: to produce their food, to raise their income to send their children to school.
"And for what? A large majority of profits from the projects will go to the Global North. The Tanzanian government only has a 15% stake in the project."
Hilda Nakabuye, from Fridays for Future-Uganda, added: "The International Energy Agency said in 2021 that in order to limit global warming to within the threshold of 1.5°C, no further fossil fuel expansion must take place.
"The Ugandan, Tanzanian and Congolese governments must heed calls to stop the expansion of fossil fuels in the African Great Lakes region."