Almost 250 temporary classrooms ordered to help schools in England affected by Raac crisis, MPs told
Almost 250 temporary classrooms have been ordered by at least 29 schools in England in response to the Raac (reinforced autoclaved aerated concrete) crisis, the Department for Education's top official has told MPs.
As PA Media reports, Susan Acland-Hood, the DfE permanent secretary, told the education committee:
Combining those we knew about before the summer and those we are working on now, we think that so far we are aware of at least 29 schools that we think will require temporary accommodation.

Of those, 11 are in place. That is a mixture of those that were provided centrally and those that were provided by the responsible body.
Before announcing the temporary classroom figures, Acland-Hood said the numbers should be taken with "some caution" because they referred to orders that might not be needed. As PA reports, she went on:
I will give you this figure because I want to be transparent, but I don't think it is a target because if we can remediate through timber framing on the classroom ceiling, then that is often a better solution.

But at close on Friday, project directors and case workers had made inquiries requesting potential orders … relating to 180 single classrooms and 68 double classrooms, and a mix of what I think are brilliantly referred to as hygiene facilities, which I think means loos.
Key events
This is from Peter Ricketts, a former head of the Foreign Office and a former ambassador to France, on the Starmer/Macron meeting.
This is certainly UK week in France! Continuing the upward swing in the bilateral relationship evident at the Macron/Sunak summit in March. For the reasons given here, it's no surprise that Macron wants to meet Starmer. And the State Visit will highlight the enduring 🇬🇧🇫🇷ties.
And here is an extract from the Economist article that Ricketts is retweeting. It says the focus of the meeting is likely to be President Macron listening to what Keir Starmer has to offer.
The French are well aware, though, that they also need to look ahead. It is hard not to see the appeal for them in working with a future British government under a leader who both voted against Brexit and is serious about engaging in a more structured and open-minded way with the EU, especially on defence and security. "The French really miss the strategic dimension that the British bring to the table," says Mujtaba Rahman, of the Eurasia Group, a consulting firm. The chances are that Mr Macron and Sir Keir will get on well.
Today is the last day the Commons is sitting before the conference recess. After 12.30pm we've got two urgent questions, and then two statements. Here they are, with rough timings.
12.30pm: Education minister to respond to a Labour urgent question on Raac.
Around 1.15pm: Transport minister to respond to SNP urgent question on the West Coast mainline franchise.
Around 2pm: Johnny Mercer, the veterans minister, makes a statement on the Afghan resettlement scheme.
Around 3pm: Michael Gove, the levelling up secretary, makes a statement on Birmingham city council.
The report from UK in a Changing Europe today on how the UK-EU Brexit deal could be renegotiated highlights the difficulties. It is not critical of the Labour's ambition for a better deal, but it makes the point that goodwill alone will not be enough to achieve that.
Mujtaba Rahman, the Brexit specialist at the Eurasia Group consultancy, has posted a more upbeat take in a thread on Twitter. It starts here.
There's a lot of negativity about @Keir_Starmer trip to Paris today to see @EmmanuelMacron. A lot of "@UKLabour is delusional & don't understand EU" kind of thing. That it's all pointless given "no CU, no SM" redlines. That's premature. There's also a positive case to be made 1/
And here are some of his points.
Ruling out CU/SM will arguably also give a Labour Govt political cover to do a lot else & quickly. As there's a lot UKG can offer: institutionalised foreign & security policy co-operation, fish, serious & substantive engagement w @EmmanuelMacron "European Political Community" 6/
CU is the customs union, and SM is the single market.
An acknowledgement that reducing trade friction = alignment/rule taking; recognition that migration deal = co-op at EU level on a returns agreement. Of course details will take time. But Tories simply refused to accept these realities. That killed incentives for EU to engage 7/
There's also a lot of determinism about EU position in 1, 2 or even 5y time. But fact is EU is less worried today about a member state copying UK – as Brexit has been such an obv shitshow – compared to 2016. Sure, cakeism won't be allowed. But political reality IS diff today 8/
These are from Sophie Pedder, the Economist's Paris bureau chief, on Keir Starmer's meeting with President Macron this morning.
A year after Truss couldn't decide whether Macron was a friend or foe, [France] is rolling out the red carpet for [the UK]. Macron meets Starmer today, ahead of the royal state visit. It's part of a welcome reset of cross-channel ties after the dismal Johnson period
Macron and Starmer have never met. But I think they will get on well. Both had pre-politics professional careers, lean (or leaned) to the centre-left and count Blair as an interlocutor. Fun fact: both are amateur pianists who share a love of German music, especially Beethoven
The Northern Ireland Troubles (Legacy and Reconciliation) Act has now received royal assent, which means it has now become law, the government has said. The legislation, which is opposed by the political parties in Northern Ireland and by the Irish government, is intended to help the Troubles reconciliation process by providing an immunity from prosecution to people who cooperate with inquiries into Troubles-era killings carried out by a new Independent Commission for Reconciliation and Information Recovery (ICRIR).
In a statement Chris Heaton-Harris, the Northern Ireland secretary, said:
Now that the legislation has become law, the UK government will do all it can to support the ICRIR, consistent with its operational independence, as it establishes itself and seeks to deliver effectively for victims and families. I hope that others, including the Irish government, can do the same.
UK set for highest inflation in G7 in 2023, OECD says
The UK economy is set to witness the highest inflation rate of the world's G7 advanced economies this year, according to new forecasts, PA Media reports. PA says:
The Organisation for Economic Co-operation and Development (OECD) also increased its predicted average UK inflation rate for 2023 compared with its previous estimate.

Economists at the globally recognised organisation also reduced their UK growth forecast slightly for next year amid pressure from higher interest rates.

Growth across global economies was better than expected at the start of the year but is "expected to moderate" due to the impact of higher borrowing costs, which have been introduced in many countries as part of efforts to grapple inflation.

Last year, the UK saw inflation average at 9.1% over the year, with a peak of 11.1%.

Today the OECD said it expects UK inflation of 7.2% for 2023, increasing its previous forecast of 6.9% from June.

This would be the fastest rate across the G7 and third fastest across the G20.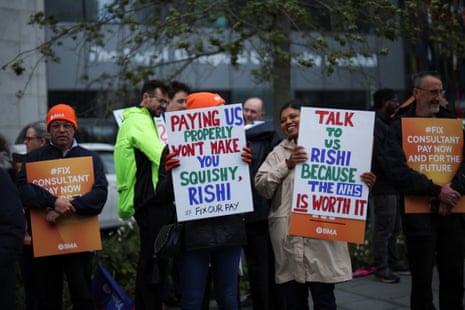 Barran tells the education committee that the response rate for questionnaires sent to schools to help assess whether they are likely to have a problem with Raac is now up to 98.6%. Asked why some schools have not yet replied, she does not give an answer, but says the Department for Education is now conducting them by phone.
At the education committee Lady Barran, the education minister, has been giving MPs more details of the three incidents over the summer that persuaded the government to increase precautions taken in schools with Raac.
The Department for Education has already said there were three incidents of Raac failing: one involving a school not in England, one involving Raac in a commercial setting, and the final one involving Raac failing in a school in England over the summer.
Barran said the final incident happened in a school where workmen were doing drilling to install lights. As they were working, "large pieces" of Raac started to come down, she said. She said this was Raac that would not have been graded critical.
Education minister tells MPs 85% of schools in England affected by Raac offering face-to-face teaching
Lady Barran, the education minister, is giving evidence to the Commons education committee about Raac.
Robin Walker, the chair, starts by saying they are grateful for the Raac information published by the department this morning. But it was published just before the hearing, he points out. He says that is a bit like handing in homework late.
Barran says 85% of schools affected by Raac are offering face-to-face education.
She says the DfE has been working on Raac for some time. But, when new information emerged during the summer, the department decided to take a precautionary approach, and to ask schools to close areas affected by Raac.
She says no two cases of Raac are the same. The DfE is trying to provide a tailored approach for schools. And every school affected gets a caseworker, she says.
She says the data published this morning shows that the number of schools affected has gone up by 27. But the number of schools affected where pupils are getting face-to-face education has risen by 43, she says. She goes on:
That underlines the work that has gone on, on the ground for children who were, when we last published data, either in hybrid or remote or had a delayed start to term.
She says the number of schools where pupils are being taught via hybrid arrangements has gone up from 20 to 23. And there is one school where teaching is fully remote, she says.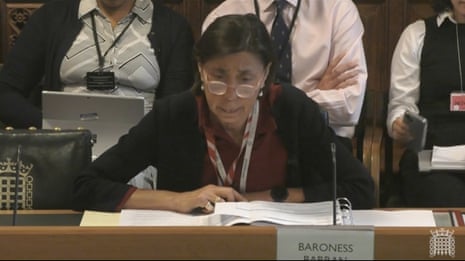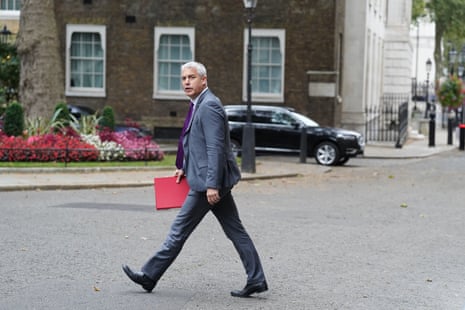 DfE publishes updated list of schools affected by Raac
The Department for Education has published its updated list of schools in England affected by Raac (reinforced autoclaved aerated concrete). As more school building surveys have been completed, the number of schools affected has risen from 147 to 174.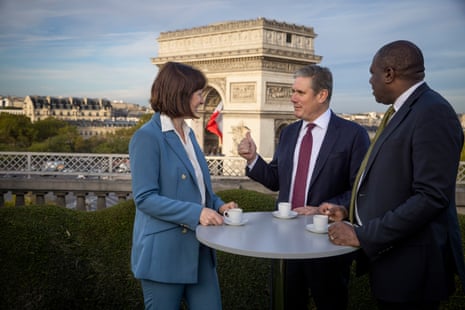 Steve Barclay accuses NHS staff of planning 'politically timed' strikes
Steve Barclay, the health secretary, has accused NHS staff in England of planning "politically timed" industrial action as he outlined proposals to extend strike laws to ensure doctors and nurses in hospitals provide a minimum level of cover, Ben Quinn reports.
Starmer to meet Macron in Paris as thinktank says Labour's proposed Brexit renegotiation might not be worth it
Good morning. Keir Starmer is in Paris today for a meeting with the French president, Emmanuel Macron. The Labour leader is already ahead of Rishi Sunak on who would make the best PM according to most polls (it depends exactly how you ask the question), but if you want to look prime ministerial, there is no substitute for doing the sort of things that a prime minister does. We are not expecting to get TV footage of the meeting, because there are protocol issues that kick in when a head of state is just meeting an opposition leader. But, coming after his recent trip to The Hague and to the Global Progress Action conference in Canada, Starmer's latest outing on the world stage should provide a helpful boost to his political authority.
Starmer posted this picture on X (formerly Twitter) yesterday.
But will Starmer make any progress on substance? One topic that is bound to come up is Starmer's suggestion, in a Financial Times interview published yesterday, that he would negotiate a "much better" Brexit deal with the EU. In an analysis, Kiran Stacey, Lisa O'Carroll and Pippa Crerar suggest that Labour is "unlikely to find a receptive audience in European capitals for such a renegotiation unless the party is willing to offer significant concessions".
Today UK in a Changing Europe, which is probably the leading British thinktank on Brexit issues, has published a report on how the Brexit deal might be renegotiated, and it says achieving the sort of renegotiation that Labour wants could take years and might not be worth it. It says:
Assuming Labour's position holds, it will need to persuade the EU to undertake an expansive TCA [trade and cooperation agreement] review. Its current proposals focus on UK priorities (trade easements), and it would have to refine its offer to address key EU interests, which are likely to lie in improving mobility arrangements for young people and enhanced cooperation on security and defence.

The kinds of agreements Labour is seeking often entail long, technical negotiations which can take years to conclude. They would demand significant administrative resources at a time when the party would have many other priorities. There could also be political costs to signing up to agreements which require continuous, ongoing alignment with EU regulations over which the UK will have no say. The EU would also have to trust that future UK governments, which could be far more Eeurosceptic, will uphold such agreements.

While these kinds of agreements would have clear benefits for certain sectors, they would not address the bulk of the overall economic cost of Brexit for the UK, as it would remain outside the single market and customs union. Labour would have to think carefully about whether the benefits of a maximalist TCA review justify the administrative and political capital it would have to expend.
Here is the agenda for the day.
9.30am: Rishi Sunak chairs cabinet.
10am: Lady Barran, an education minister, and Susan Acland-Hood, permanent secretary at Department for Education, give evidence to the Commons education committee about Raac (reinforced autoclaved aerated concrete) in schools.
10am: The Scottish government begins a legal challenge at the court of session in Edinburgh against the UK government's decision to block its gender recognition reform bill.
11am (UK time): Keir Starmer meets the French president, Emmanuel Macron, at the Élysée Palace in Paris.
11.15am: Chris Heaton-Harris, the Northern Ireland secretary, gives evidence to the Lords protocol on Ireland/Northern Ireland sub committee about the Windsor framework.
11.30am: Downing Street holds a lobby briefing.
11.30am: Claire Coutinho, the new energy secretary, takes questions in the Commons for the first time.
2.15pm: Kemi Badenoch, the business and trade secretary, gives evidence to the Commons business and trade committee.
Also, hospital consultants in England are on strike.
If you want to contact me, do try the "send us a message" feature. You'll see it just below the byline – on the left of the screen, if you are reading on a laptop or a desktop. This is for people who want to message me directly. I find it very useful when people message to point out errors (even typos – no mistake is too small to correct). Often I find your questions very interesting, too. I can't promise to reply to them all, but I will try to reply to as many as I can, either in the comments below the line, privately (if you leave an email address and that seems more appropriate), or in the main blog, if I think it is a topic of wide interest.