The core issue at hand is preserving their agency and autonomy over the ideological content of their children's education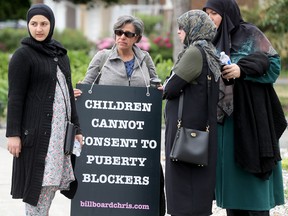 Article content
In the coming days, Canada will see heightened activity in the nation's ongoing gender identity politics debate. The "1 Million March 4 Children" protest against how gender identity is taught in schools, is set to occur on Wednesday, with synchronized events in more than 50 cities countrywide. Two days later, separate Toronto rally will spotlight two figures prominent in the gender-critical movement: Chris Elston, colloquially known as "Billboard Chris" for his distinctive method of protesting against childhood medical transition, and Josh Alexander, a Renfrew, Ontario student who was expelled earlier this year after objecting in class to his school's transgender washroom policy.
Article content
Organizers of these events bill them as a defense of the safety and wellbeing of children, though the protesters' opinions span a wide spectrum of positions. While some desire personal discretion in how matters of gender identity are handled for their own children, others urge broader constraint on transgender-related discussion and accommodations for the entire student body. The perspectives reflect the diverse community backing the movement.
Article content
As parents' voices grow louder, there's a perception in the progressive left that all of these emerging movements are rooted and inspired by "far-right" extremism. Many in leftist circles suggest that parental rights advocacy is a dog-whistle: a veiled attempt to advance anti-transgender policies. A recently leaked video from an Ontario Federation of Labour meeting offers a glimpse into how some of the province's most influential union members perceive these protests. As one member notably stated during the meeting: "The fascists are organizing in the streets … . This is far more than a far-right transphobic protest. They're fundamentally racist, they're fundamentally anti-union, they are fundamentally transphobic, and it's just a matter of time before they come for us."
Article content
Such language of a growing fascist movement, evoking images of 1933 Berlin, is more than a little unhinged, particularly when all they are discussing is parents uniting together to demand involvement in their children's education. As a covert spectator in the union meeting, there was an undeniable sentiment among participants that if not for them democracy would surely collapse.
It's a grave mistake to deride the parental collective pushing back against the status-quo as fascist sympathizers motivated by transgender hate. A glance past such alarmist rhetoric reveals that — while a fringe group of hate has always existed — the concerns many parents are championing are much more moderate than a "far-right" moniker suggests.
For many parents, the core issue at hand is preserving their agency and autonomy over the ideological content of their children's education. They want transparency about what is being taught, the option to excuse their child from content they believe doesn't align with their values, and the discretion to determine age-appropriateness for activities, such as certain reading material or events like drag queen performances at schools. Perhaps least surprisingly, parents want to be involved in the key decisions of their own child undergoing a social transition in the classroom.
Article content
Many of these matters have been surfacing in school board meetings for several years, largely to be ignored by Trustees and Education Directors. The shared sentiment among these parents is the perception that the education system increasingly sidelines them, diminishing their role in their children's upbringing. This sense of alienation is leading a growing number of parents to take a stand, even if it means confronting accusations of extremism.
The matter of social transition behind parents' backs in particular is so condemning of their role in upbringing that it has thrust the entire gamut of gender identity matters into the national spotlight, revealing just how out of balance transgender accommodation has become. The manner in which the left has responded — by doubling down in their rhetoric and deriding parents as militant zealots, has played powerfully into the rapid growth of this grassroots movement.
Many parents, even amid those who will stand in protest, have little desire to limit other families' decisions regarding gender teachings and expression for their children. They realize that their objective of ensuring their own parental autonomy is intertwined with safeguarding those same freedoms for other families as well.
Article content
Julia Malott: New school gender policies aren't anti trans. They're pro parent-child relationship

Julia Malott: Drag queen story hour is not the way to teach children about diversity
Over time, the persistent branding of even modest parental rights positions as far-right extremism does injury. As the left cries foul each time they encounter a perspective they don't like, they desensitize the meaning in such a label. By regularly branding modest parental concerns as extremist, progressives may very well be shoehorning the adoption and normalization of more hardline positions that do straddle the line of the parental rights of others. As grassroots gain traction, a vocal minority have now taken to calling for sweeping bans on gender affirming teaching and accommodation for all children and families alike within the public education system.
So where do we go from here? What might a balanced approach to parental rights look like within the nuanced landscape of gender identity politics? Fortunately, we need not start from scratch; history offers us a model for the coexistence of diverse ideologies within our educational institutions. Look no further than religion.
Article content
For years, Canada has upheld an educational system truly inclusive of students from all religious backgrounds. The classroom approach to religious topics is robust; it sidesteps direct religious instruction, and when religion intersects with the curriculum, it is presented academically rather than doctrinally. Instead of dictating what's "true" in religious contexts, educators shed light on what various groups "believe," cultivating an environment of both choice and critical thinking.
Amid religious diversity, we teach acceptance. Students are taught to make space for varied faith expression among their peers, whether through clothing or other customs, and with a strong desire to maintain neutral, religious symbols are not adorned by the institution. The lesson for students is to embrace and include, even where personal beliefs diverge; Meanwhile, the guiding principle for the institution is to avoid actions that display favouritism toward any specific religious doctrine.
Such a solution could address a significant portion of the concerns fuelling the rising parental unrest. Moderate parents would applaud such an education system, and this would still be inclusive of transgender students. But in order for this to be realized, the two factions moving ever further apart will first need to come to the table and talk. Given the recent rhetoric from progressive quarters, the prospect of this dialogue anytime soon appears distant.
National Post