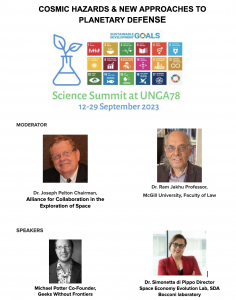 Cosmic Hazards Science and Space Cooperation at the UN General Assembly Science Summit I
Cosmic Hazards Science and Space Cooperation at the UN General Assembly Science Summit II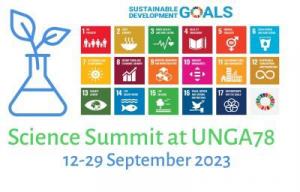 UNSDGs
Geeks Without Frontiers and the Institute of Space Commerce Leadership Call for Urgent Planetary Resilience Measures
The existential threats of cosmic hazards challenge humanity to reimagine planetary resilience beyond nation-state boundaries."
— Michael Potter
NEW YORK, NEW YORK, USA , September 17, 2023/EINPresswire.com/ — Leadership of Geeks Without Frontiers and the Institute of Space Commerce are calling for the acceleration of planetary resilience measures at the Science Summit of the 78th Session of the United Nations General Assembly (UNGA 78). The Summit will feature a panel discussion on Cosmic Hazards and the Urgent Need for Planetary Resilience on Thursday, September 21st at 1pm ET.
https://sciencesummitunga78.sched.com/event/1Nr8I/virtual-cosmic-hazards-and-new-approaches-to-planetary-defense-211301?iframe=no
According to Michael Potter, co-founder of Geeks Without Frontiers and the Institute of Space Commerce, "The existential threats of cosmic hazards challenge humanity to reimagine planetary resilience beyond nation-state boundaries. In addition to the more familiar dangers of near-Earth objects such as asteroids, orbital debris is an especially critical problem that has been created by humankind itself." Potter, a space scientist and entrepreneur, stresses the need for urgent action by the UN and its member state governments to limit the creation of orbital debris and urgently seek to mitigate the effects of existing debris and other cosmic hazards.
Dr. Joseph N. Pelton, Chair of the Board of the Alliance for Collaboration in the Exploration of Space (ACES Worldwide), will moderate the session and has similarly stressed the need for immediate reforms with regard to planetary defense. Pelton posits that cosmic hazards are increasingly dangerous in light of worldwide urbanization, a global population nearing 8 billion people, and an ever-increasing reliance on modern technology. Both experts concur that a call to action should be issued to the UNGA and international space agencies to give urgent priority to planetary defense research and development initiatives and global space traffic management.
COSMIC HAZARDS & NEW APPROACHES TO PLANETARY DEFENSE
MODERATOR

Dr. Joseph Pelton Chairman,

Alliance for Collaboration in the Exploration of Space

ACES
SPEAKERS
Dr. Ram Jakhu Professor,

McGill University, Faculty of Law
Michael Potter Co-Founder,

Geeks Without Frontiers
Dr. Simonetta di Pippo Director,

Space Economy Evolution Lab, SDA Bocconi laboratory
Dr. Taro Kuusiholma

Chair of Regulatory Committee,

International Association for the Advancement of Space Safety
Dr. William Ailor Retired Fellow/Consultant,

Aerospace Corporation
Dr. James Green Consultant to Chief Scientist,

NASA
Dr. Carlos Wuensche Chief Scientist,

INPE Brazil
CONVENOR

Kim E Degnan

Alliance for Collaboration in the Exploration of Space
The UNGA Science Summit is convening 325 sessions and 1,400 scientists, engineers, policy analysts, and investors to encourage global collaboration in attaining the United Nations Sustainable Development Goals (SDGs) and generating actions toward The Summit of the Future in September 2024. This event is free and can be streamed via Zoom from 12-29 September 2023 by registering at sciencesummitunga78.sched.com
About ACES

The Alliance for Collaboration in the Exploration of Space (ACES) Worldwide's mission is to strengthen international alliances by supporting equitable space policies, laws, regulations, sustainability, safety, education, training, and capacity-building.

https://www.acesworldwide.org
About the Institute of Space Commerce

The Institute of Space Commerce is a non-partisan non-profit organization dedicated to the study of the economics and policy of commercial activity in space. Through its fellowships, scholarships, and other research and engagement activities, the Institute is accelerating the growth of a commercially viable space economy, ensuring a safe and sustainable space environment, and advocating for the advancement of the space sector for the betterment of humankind and the natural world.

https://change.space
About Geeks Without Frontiers

Geeks Without Frontiers (Geeks) is a platform for global impact. An award-winning non-profit, Geeks' mission is to promote technology for a resilient world including bringing the benefits of broadband connectivity, health, education, poverty reduction, gender equality, and the other UN Sustainable Development Goals (SDGs) to the estimated 3 billion people who remain unconnected.

www.geekswf.org
Media Officer
Geeks Without Frontiers
email us here
Visit us on social media:
Facebook
Twitter
LinkedIn
Instagram
YouTube
Cosmic Hazards — How Dangerous is Your Cosmic Neighborhood?