[ad_1]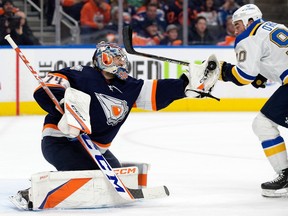 Article content
Virtually every opposition coach who's preparing for a game with Edmonton issues the same warning to his players: stay out of the penalty box.
Article content
Don't give the Oilers an opportunity to beat you on the power play and they might not beat you at all. Keep them at five-on-five and your odds of winning increase dramatically.
And it's true. As their power play goes, so go the Oilers on most nights.
When Edmonton scores two or more power play goals in a game they are 9-0-1 this season.
When the Oilers score one or fewer power play goals in a game they are 8-13-0 (6-7-0 when they score once and 2-6-0 when they don't score any).
So, that stuff about staying out of the box is real.
Not saying Edmonton is a one-dimensional team, but their best dimension is lethal.
The concern some have, however, is that they have become too reliant on the man advantage and it is masking some five-on-five deficiencies.
Article content
While they lead the NHL in power play percentage (31.9) and power play goals, the Oilers are 16th in the league in five-on-five scoring.
Last year things were slightly more balanced — 11th in the league in five-on-five goals (181) and seventh in power play goals (61) — basically one power play goal for every three five-on-five goals.
This year, as they close in on the midway mark of the season, it's more than one power play goal (36) for every two five-on-five goals (60).
A concern?
"I don't see that (as being too reliant)," said Oilers coach Jay Woodcroft. "It's a positive. It's part of who we are as a team. The way I see it, the power play allowed us a chance to win the game (on Thursday)."
True, but another goal or two at even strength and the shootout loss to St. Louis is an open-and-shut case. Edmonton wins going away.
Article content
But Woodcroft, whose club has 13 power-play goals in the last eight games (an astounding 13-for-29) sees their jaw-dropping power-play totals as a means of getting the team through some deep water while it waits for a handful of injured forwards to return.
"The team, despite missing some pretty important pieces over the last six to eight weeks, has found a way to be 7-3-1 in its last 11 games," he said.
Indeed. There is no such thing as being too reliant on something that is this deadly and efficient. And there is no concern, as there is with normal power plays, that it might not be sustainable. It's absolutely sustainable because they've been sustaining it for four years now.
Edmonton's power play has been running at a league-leading 28.3 per cent since 2019. The next best teams over that four-year span are St. Louis at 24.5 and Toronto at 23.9.
Article content
They've also carried it into the playoffs (25.6, fourth in the NHL in the post season over the last three years).
The question is how much better would this team be if it could ramp up the five-on-five attack, a tune we've been whistling in Edmonton for years.
Or, is this simply who they are: an average team five-on-five that will pick you apart on the man advantage?
ISN'T IT IRONIC?
Edmonton's only loss this season when scoring two power play goals in a game came Thursday night against St. Louis when they had a power play and a 3-2 lead with a minute to go and coughed up a shorthanded equalizer.
Woodcroft doesn't see it so much as a team caught in no man's land — between trying to score and trying to run out the clock and not doing either — but rather a simple chain of events that had them fishing the puck out of their own net with 20 seconds left in regulation and then losing in the shootout.
Article content
Darnell Nurse's outlet pass to Leon Draisaitl hit a St. Louis stick, Connor McDavid got rubbed off the puck in the ensuing scramble behind the net and nobody covered Vladimir Tarasenko in the slot for the tying goal.
"We believe we had the right people on the ice, we didn't get the job done," said Woodcroft. "I wouldn't over-cook this one. We made an error where we turned the puck over on a play that is normally made.
"We were up by one goal, we had a lot of experience on the ice in the last minute and we didn't get the job done. We made an error."
He admits he played it conservatively in that situation, as most coaches do.
"It happens a couple of times a year and my tendency, and most coaches' tendency, is to put two defencemen on the ice and treat it as what it is most likely going to end up as, a five-on-five situation (when the goalie is pulled). We made a mistake and they made us pay."
Twitter.com/rob_tychkowski
rtychkowski@postmedia.com


[ad_2]

Source link