[ad_1]

Article content
The advantage of revisiting the Edmonton Oilers' performance every 10 games as we traditionally do here at the Cult of Hockey is it allows for meaningful analysis of meaningful chunks of each season. The medium-term view is a very useful tool in an environment where any single loss is treated like a catastrophe, in one recent case sparking a day-long discussion about how the Oilers could turn their remaining buck sixty-five in cap space into Erik Karlsson, merely the most expensive defenceman in the National Hockey League.
Article content
Whereas each loss leaves its own bitter aftertaste, the concept of 3 such losses in a 10-game span seems a little more palatable. So it is with the segment the Oilers have just completed.
Article content
At our last instalment after Game 20, the Oil were floundering. They had just 3 wins and 0 overtime points in their prior segment, had completely wasted a 7-3-0 start, and stood 10th in the West with 10 wins, 10 losses on the season.
That all turned for the better in Game 21, albeit late in day. Coach Jay Woodcroft made a couple of key changes to the line-up that afternoon in Manhattan. One was an addition to the line-up in the form of promising young Philip Broberg on the third defensive pairing. The other, more impactful change was of deployment, specifically the even-strength reunion of offensive superstars Connor McDavid and Leon Draisaitl in an unsubtle attempt to revive the club's slumbering offence.
Article content
It took a couple of periods, but it worked. Trailing 0-3 and facing the spectre of a long plane ride home with zero points from a 3-game road trip, the Oilers forged a miraculous third-period comeback that saw them eke out a 4-3 win.
Draisaitl provided the finishing touch on that win, rapping home a McDavid pass on the powerplay with 2 minutes left in regulation for the game winner, even as it was a rare outburst from the bottom six that ignited that epic comeback. But from there Edmonton's power couple took charge, especially at the good end of the ice.
After averaging just 3 minutes per game together at 5v5 through 20 GP (3 goals for, 2 against), in the most recent 10 they logged just over 15 minutes a night in the primary game state. The only constant was the 60% goal share, as Edmonton scored 12 goals and allowed 8 in those 151 minutes of 5v5 hockey, the large majority of it "power versus power".
Article content
Now consider the fact that the same duo played 39 minutes together on the powerplay, during which time the Oilers outscored their opponents by a tidy 13 goals to 0. Draisaitl scored 6 of those goals, while McDavid earned a point on 12 of the 13.
The powerplay is distinct from 5v5 of course, 97 + 29 have been a constant on that very special team regardless of their status in other game states. So maybe it's just a coincidence that their on-ice PPG rate soared from a hefty 14 goals per hour to an eye-popping 20 during the most recent segment.
Let's not forget the overtime goal the duo produced in the only 22 seconds of 3v3 hockey in the entire segment, mere seconds after they had teamed up on a critical 6v5 tally that sent the game to OT in the first place. Or the empty netter that finished off the big win in Nashville. Add it up, and the 97-29 partnership thrived in the segment under review, playing about 200 minutes together in all situations during which time the Oilers scored a ridiculous 28 goals. Twenty. Eight. Goals.
Article content
Since we don't have a precise tab of shared ice time in all those manpower situations, let's round it off to 8 goals per 60. Suffice to say that prodigious production made a massive impact on the team's results in the segment:
Season to date by segment
2021-22
…
Games 61-70: 7-2-1, .750 | 48 GF 33 GA | 359 SF, 324 SA | 1.032 PDO
Games 71-80: 7-2-1, .750 | 33 GF, 20 GA | 354 SF, 329 SA | 1.032 PDO
2022-23

Games 1 -10: 7-3-0, .700 | 41 GF, 32 GA | 334 SF, 338 SA | 1.028 PDO
Games 11-20: 3-7-0, .300 | 25 GF, 40 GA | 304 SF, 346 SA | .964 PDO
Games 21-30: 7-3-0, .700 | 43 GF, 30 GA | 317 SF, 313 SA | 1.040 PDO
Once again we have included the last two segments of 2021-22 to demonstrate the recent trajectory of the Jay Woodcroft-coached Oilers. Which is to say, 4 of the 5 segments with exactly 7 wins. Each succssful set was largely driven by excellent shooting percentages, which have seen the Oilers convert their shots at a rate 3 to 4 percent better than their opponents and outscore them by a over a goal per game. The odd sock segment was the second one of this campaign, when the percentages were flipped (and the Oilers were badly outshot), resulting in 7 losses rather than wins and an ugly -15 goal differential.
Article content
Obviously Woodcroft had to stop the bleeding, and took the drastic step that many in Oil Country call the "nuclear option". 10 games later, who's going to say he was wrong? Not me.
As we've seen repeatedly with multiple coaches now, it's pretty hard to resist. The best part is that the club has both options at its ready disposal. They can go vertical with a brilliant 1-2 punch down the middle, or horizontal with the duo on the same line. Each look presents a significantly different set of problems for the opposition. Just takes a quick revision on the coach's whiteboard and Draisaitl converts from the best 2C in the NHL to one of the league's very best wingers, be it the left or right side. Versatility: a nice problem to have.
Article content
It helps when the rest of the team holds its own with 97+29 on the bench. In the most recent segment they did 2 better than that, outscoring the opposition 13-11 with the stars on the bench at 5v5.
Overall, the Oilers held a 25-19 edge in goals at 5v5, a 56.8% goal share that ranked 6th in the NHL over each team's last 10 games. In all situations, 43 for and 30 against, or 58.9%, also good for 6th in the league. End result in the actual standings: a 7-3-0 record and 14 points that tied for — wait for it — 6th in the NHL. Solid goal shares driving solid results, who knew?
Goal

Turning to the individual side, the surprise of the still-young season is surely the emergence of rookie Stuart Skinner as the undisputed #1. Skinner has posted superior percentages to would-be starter Jack Campbell in each segment to date, but as the season has worn on Skinner's workload has steadily increased.
Article content
The youngster's own performance bounced back strongly in this set after both goalies had struggled in the 40-GA second segment. In a recent run of five straight starts Skinner allowed 3, 3, 2, 2, and 2 goals, giving his potent club a chance to win each night, even as they dropped a pair of one-goal decisions in that span.
Defence

The addition of Broberg in a spot previously shared by Markus Niemelainen and/or Ryan Murray changed the look of the defence, and indeed of the club. There were no games of 11 F / 7 D in this segment, just a regular rotation of 6 blueliners — and the same 6 every night, usually in the same pairings.
Some excellent offensive production from the group, with no fewer than 4 defenders producing at 0.5 P/GP or better. Indeed, the quartet ranked 5-6-7-8 on the team scoring roll for the segment.
Article content
Tyson Barrie led the way with 9 points in 10 games, including 7 assists in just 27 minutes on the PP. His +6 tells us that he more than held his own in other game states, even as he had some iffy moments on the penalty kill. Evan Bouchard got his own looks on the PP but got most of his points at even strength.
Meanwhile left shots Brett Kulak and Darnell Nurse managed 5 even-strength points of their own. Nurse also led the way in most of the auxiliary stats like ice time, penalties, and plus, as well as blocked shots and takeaways (not shown here). Cody Ceci meanwhile provided a robust defensive presence, comfortably leading the group with 22 hits. As for Broberg, he survived a stern early test and recently has shown signs of emerging from his cocoon.
Article content
Forwards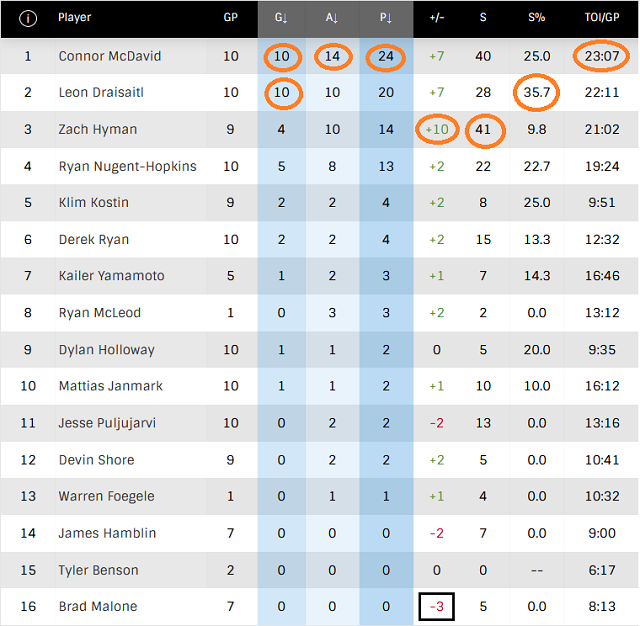 This is the new normal for the Edmonton Oilers. There are these two guys, see, and then there are two more guys. Then way down below, underneath a few of the d-men even, a whole bunch of other guys.
Super-production in the current segment with 43 goals, but as is often the case McDavid and Draisaitl hit the "over" with a combined 44 points. In other words, the Oilers scored more goals with both 97 and 29 in on the scoring play than they did with neither name on the sheet. That includes the surprise three-goal head start for the depth scorers that November Saturday afternoon in MSG. The big boys took command late on that day, and as these phenomenal numbers show, they have driven the bus since. 10 games, 10 goals. Each!
Article content
Full credit to a pair of trusty sidekicks in Zach Hyman and Ryan Nugent-Hopkins, both of them regulars on Edmonton's devastating powerplay with Hyman generally causing a disturbance in front of the net while the 3 skilled centres work their magic behind them. For his part Hyman has been doing most of his scoring damage at even strength, largely as the third man on the top line. The trio has the capacity to take over entire hockey games, as shown most recently in the Oilers' 6-3 win at Nashville in Game 30, where the trio scored all 6 Edmonton goals, added 7 assists, and fired a combined 17 shots on net.
RNH meanwhile is serving as Draisaitl's 5v5 doppelgänger. When Leon flips from 2C to 1LW, Nuge flops from 1LW (or 2LW) to 2C. They too are reunited on the powerplay, where Nugent-Hopkins is becoming ever-more-deadly on the cross-seam pass. A nice option to throw at teams fixating on shutting down the McD-Drai passing lane.
Article content
As for the other guys, let's remember that in addition to Evander Kane the group is missing two-thirds of the third line in Ryan McLeod and Warren Foegele, both injured on the same shift in that oh-so-strange Game 21 and sidelined ever since. Of the rest, some decent bottom-6 production from the likes of Derek Ryan and Klim Kostin, and more importantly lots of green numbers from many of the grinders in the plus-minus column. Small green numbers to be sure, but indicative of minor outscoring from a group where +/- is almost entirely reflective of 5v5 play. Indeed, as mentioned above, 13 for, 11 against with one or both of the big two off the ice.
As long as that "Without McD/Drai" group can tread water successfully, whether configured as a bottom 6 or bottom 9, it affords Woodcroft the very tempting alternative of teaming up his superstars and challenging the opposition to find a way to stop them.
Article content
Player grades

We close in our usual fashion by reviewing the set of 10 games through the lens of our own subjective ratings here at the  Cult of Hockey. Regular readers will know that we grade on a scale of 1 to 10, the performance of every Edmonton Oilers player in every game the team plays, based on a combination of observation and interpretation of statistical output. Here are average grades for Games 21-30 along with our customary thumbnail comment summarizing each player's contribution over that span: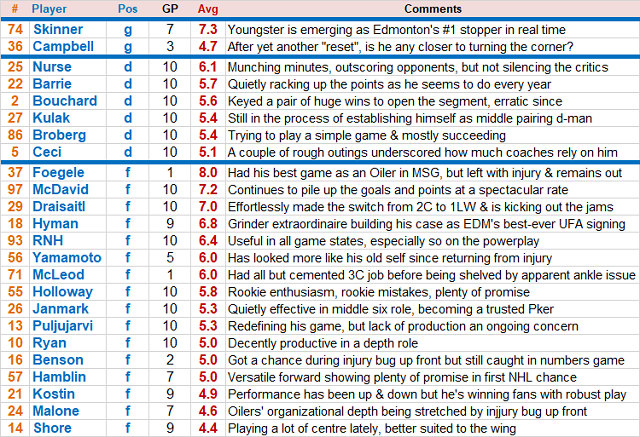 Results by grader, third segment:
David Staples – 4 games, 3-1-0, average grade 5.7
Kurt Leavins – 3 games, 3-0-0, average grade 6.1
Bruce McCurdy – 3 games, 1-2-0, average grade 5.2
Segment totals – 10 games, 7-3-0, average grade 5.7
Recently at the Cult of Hockey
LEAVINS: Oilers' stars sparkle in the Music City
STAPLES: The Wild smother the Oilers 2-1
LEAVINS: Learning moments for Bouchard — 9 Things
McCURDY: Complete team effort as Oilers tame Wild
McCURDY: Who among Oilers' depth forwards is gaining traction?

Follow me on Twitter @BruceMcCurdy


[ad_2]

Source link