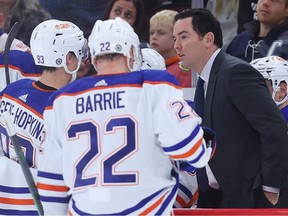 Article content
NEW YORK — Maybe emerging from the first 20 games of the season with just a 10-10-0 flesh wound is exactly what the Edmonton Oilers need.
Article content
If it's true that whatever doesn't kill you makes you stronger, then perhaps the scars from their brutal November schedule, made up almost entirely of NHL power teams, will make them better in the long run.
One thing is for certain, as cursed as December has been for this team over the years, they will be glad to be rid of November.
Every time they turn around it's another heavyweight looking to prove a point against Connor McDavid, Leon Draisaitl and the rest of the 2022 Western Conference finalists. It was 16-4-0 New Jersey, 12-5-3 Dallas, 16-4-1 Vegas, 16-4-0 New Jersey again, then 13-8-0 Islanders and on and on it goes.
In 12 games over 26 days in November so far, the cumulative record of Edmonton's opponents is a whopping 142-81-22.
Article content
That's no walk in the park, and the Oilers have the .500 record to prove it. But at least they're getting a very good understanding of where they need to improve. Fighting to stay above water against the best teams in the league might not be as much fun as feasting on the worst, but it's certainly more revealing.
There is no getting away with bad habits this month.
"We've played good opponents and in the end I think it does make you stronger because you realize where your team is at, where your team might need to improve," said head coach Jay Woodcroft, who isn't asking for any sympathy.
"It's a hard league, the best league in the world, but we have a good team and we're capable of more than we've shown here recently."
It's all going to even out over the course of the season — the Oilers are going to get a run of theoretically softer nights against the likes of Anaheim, San Jose, Arizona, Ottawa and Vancouver. But, in the meantime, they are definitely being toughened up.
Article content
"There is a lot to be said for that," said defenceman Brett Kulak. "One hundred per cent. It makes you learn and adapt and grow your game in different ways to figure out ways to win in different situations.
"Being .500 sucks, we wanted to come out of the gate flying and at this point in the year have a nice spot in the standings, but that's not always the case. It's a grind every night.
"You just have to bring it every night and get better and better as a team by playing the right way."
That's the only option. The Oilers still believe they have what it takes to be a Stanley Cup contender, so they're not about to complain about all the hard teams they have to play.
As 16-time world wrestling champion Ric Flair liked to say, "If you want to be the man, you have to beat the man." Or eight or nine of them in a row, in the case of the Oilers.
Article content
"There aren't many teams that don't seem like a top team," said Kulak. "Every team brings it every single night they step onto the ice. That's why it's the NHL. It's very hard to get wins in this league. There is such a small difference between winning and losing, just small details here and there that make that difference."
Right now, the Oilers are finding themselves on the wrong end of those details too many times for their liking. They haven't been run out of the rink too many times, and they've taken down several of those heavyweights, but the mistakes are killing them.
"It's just consistency," said defenceman Tyson Barrie. "We'll play a good stretch of hockey and then a poor stretch, even if it's only for three minutes or five minutes — it seems to come back to haunt us.
Article content
"That's something that we're going to have to fix. We're 10-10, there's a lot of hockey left. We're not putting too much pressure on it but it's time to get consistent and start playing."
Starting Saturday against the New York Rangers. It should be a revealing afternoon of hockey. If the Oilers turn it up and take care of business in Madison Square Garden, it will be a good sign that they're still the same team they were down the stretch and in the playoffs last season. If it's another night of blown coverages and lost battles in front of the net, and they fall below .500, the concern gets ramped up a little more.
Right now, you never quite know what you're going to get from this team.
"In terms of the compete and the try, you can't fault it in any way," said Woodcroft. "It's the execution on a few things that we can certainly clean up. But we feel good about the people we can put on the ice and we go into every game with the mindset of winning it, regardless of who the opponent is.
"We're excited about the challenge the Rangers represent. We feel that we have the people in that room who can go meet that challenge."
E-mail: rtychkowski@postmedia.com
On Twitter: @Rob_Tychkowski