[ad_1]

The Xfinity Series and the Cup Series both were trophies that Rick Hendrick was vying for, but failed to put his hands on either. Hendrick Motorsports lost out in the Cup Series, while both JR Motorsports and HMS couldn't stop Ty Gibbs from taking the Xfinity Series.
ADVERTISEMENT
Article continues below this ad
In the Xfinity Series, Rick Hendrick had two horses in the race. Being a part-owner of JR Motorsports alongside Dale Earnhardt Jr, he has a strong interest in the Xfinity Series. But 2022 was a little different. Rick also re-introduced Hendrick Motorsports to the Series after a gap of 10 years plus.
ADVERTISEMENT
Article continues below this ad
The last time HMS had raced in the Xfinity Series was in 2009; they re-entered the event this season, although only for 4 races. Kyle Larson drove the #17 car for the team twice while Alex Bowman and William Byron got one chance each.
While the team was unsuccessful in getting a win, the two 2nd place positions seemed to have encouraged HMS and Hendrick. When asked if they will return for the next season, he said, "Some of it but not a lot of it because I'm involved with (JR Motorsports), and that's our focus up there. But we like to run some road courses, and some of our guys want to run some of the ovals."
"We won't be competing full-time at all, just a handful of races. It's been a lot of fun to watch and bring those colors back. That's kind of (Ricky Hendrick's) number and colors. That's really something that I've enjoyed, and we'll do a few more of those," he made clear.
The plan is more or less on expected lines given JR operates full-time in the Series. But it's always a great addition to the sport if Cup Series drivers take part too.
Rick Hendrick has something in mind for JR Motorsports
Hendrick has made clear that there is going to be a clear differentiation in terms of who competes for the Cup Series and for the Xfinity Series. The latter is going to be in the hands of Dale Jr.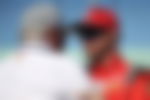 JR Motorsports had earlier been trying to enter the Cup Series with Dale Jr. and Kelley Earnhardt, both very eager to announce Junior's return to the event. But they have categorically denied it for the 2023 season.
ADVERTISEMENT
Article continues below this ad
Here's what Kelley had to say, "No, gosh, I wish. It's just not coming together. I really wanted to. You're trying to make sense out of the charter investment and then sponsorship… It's still continuing conversations. I feel like if we want to be in the Cup Series in 2024, we'll have to get that all together by the middle of next year."
But that doesn't mean fans will not get to see Dale Jr behind the NASCAR wheel. As announced earlier this month, Dale Jr will partake in 2 races in the #88 car. He is going to be sponsored by Bass Pro Shops, as per reports, in one of those races.
ADVERTISEMENT
Article continues below this ad
Watch This Story: Self-Proclaimed "Jesus" Ty Gibbs Proves Worth As Kyle Busch's Successor Amid Outrage Over Petty Move
Fans will hope that his return to Xfinity ends up acting as a stepping stone for a more committed return to racing for the legend. Do you think he will race in the Cup Series in 2024? Let us know!
[ad_2]

Source link