[ad_1]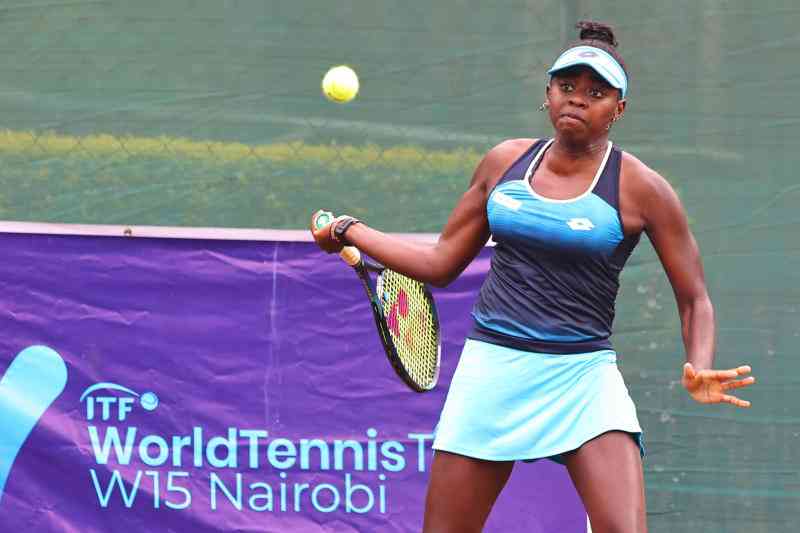 Angella Okutoyi is through to the semi-finals of the W15 World Tennis Tour.
The Wimbledon doubles junior champion knocked out third-seed Emma Tothova from Slovakia in straight sets at the Karen Country Club in Nairobi on Friday.
Okutoyi, who is the only Kenyan left standing saw off Tothova 6-1, 6-4 on the clay courts in one hour and seven minutes.
Okutoyi's twin sister Roselida Asumwa was eliminated early on Friday by Sharmada Balu.
The sixth-seeded Balu took three hours and 47 minutes to floor a determined Asumwa 3-6, 7-6(5), 4-6 in a grueling match.
On her way to the second round, Asumwa tossed out Australian Nessa Pratt 6-4, 6-2 in the first round.
On the other hand, Okutoyi thrashed Sharanya Shetty (India) 6-0, 6-0 in the first round before seeing off Uzbekistan eighth-seed Sevil Yuldasheva 6-4, 6-4.
Okutoyi, whose tennis idol is American great Serena Williams, will face second-seed Caroline Romeo from France in the semi-finals.
Romeo defeated Celine Simunyu from Ireland 6-2, 6-3.
[ad_2]

Source link