Athletes have seen many things out of the ordinary on their fields. While some have seen animals flood their course and others have seen participants check their phones mid-match, Daly's experience was a little different. John Daly once saw a naked man run past him soon after his second major win in 1995.
ADVERTISEMENT
Article continues below this ad
The man was none other than the infamous streaker, Mark Roberts.
ADVERTISEMENT
Article continues below this ad
John Daly sees his second major streaked
Costantino Rocca putted a birdie to tie John Daly's score on the 72nd hole, forcing a playoff. But Daly had come too far to give up just yet. He finished the four holes with a total of 1-under par. Rocca, on the other hand, made bogeys, which only pushed Daly further away from him. All this while, everyone held their breath and watched the course; Robert's focus was elsewhere.
Read Also – After Making a Somber Cancer Confession, John Daly Once Disclosed the Only Positive Factor About His Diagnosis
In 2009, in an interview, he said, "As John Daly approached the 18th green, I got ready and put on a cloth cap." He said that in an interview back in 2009. Roberts also carried "a set of kids plastic golf clubs." Daly took the win and was joined by his wife on the course, who excitedly hugged him. While the whole stadium erupted with cheers for John, a naked Roberts ran past him and his wife.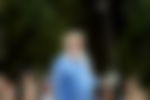 The crowd erupted even more as Roberts ran with the words "19th hole" written on his back and an arrow pointing down to his buttocks. Daly and his wife stood aghast as they watched the streaker run past them. The moment was immortalized in history books as an iconic victory for John. An also in picture books for the streaker.
The streaker's other conquests
Daly wasn't the only famous sportsman to see a streak live in front of him. In 2018, at the Pyeochnag Winter Olympics, Mark Roberts appeared again. This time he jumped onto the ice rink and took off his clothes to reveal the words "Peace and Love" marked across his stomach.
ADVERTISEMENT
Article continues below this ad
The streaker then proceeded to skate and dance across the rink in just a pink tutu. The Olympics and Daly's win weren't the only times Mark had streaked. He claimed to have streaked over 550 events in 20 countries.
ADVERTISEMENT
Article continues below this ad
Watch This Story – John Daly Assumed He 'Had the World By the B*lls' and Lamented Motivation Issues in Hard Hitting 2016 Documentary
While some sports fans think the streaker is an icon and is absolutely hilarious, others disagree and see him as a menace. What is your opinion of this? Let us know in the comments below.