"He's still being looked at," Berube said. "I can't really give you any information on it right now."
In this case, that figures to be more than just coach-speak. Because when Perunovich initially suffered a left wrist injury last season, which subsequently required surgery, it took doctors a while to zero in on what actually was going on with the wrist.
There's nothing official, but it looks very much like Perunovich may have reinjured the wrist by the way he reacted after getting shoved into the boards by Chicago's Michal Teply in Tuesday's game against the Blackhawks.
When talking about Perunovich's offseason commitment to earning an opening-day job, Berube's comments were revealing.
"(Perunovich) worked hard this summer coming in to be a permanent player — find a spot. Now he's got to wait," Berube said.
So even though the exact nature and severity of the injury may not be known, it's clear that Perunovich will be out for a while.
After the re-signing of Nick Leddy in July, a common refrain was: What will the Blues do with eight defensemen on the roster?
Well, that eight has quickly shrunk to six with the regular season still more than two weeks away. An offseason training injury led to hip surgery that will sideline Marco Scandella at least until March. And now Perunovich.
"Size. Grit. Toughness," is what that pairing brings, Berube said. "Guys that are hard to play against on a consistent basis. They're going to be doing all that dirty work."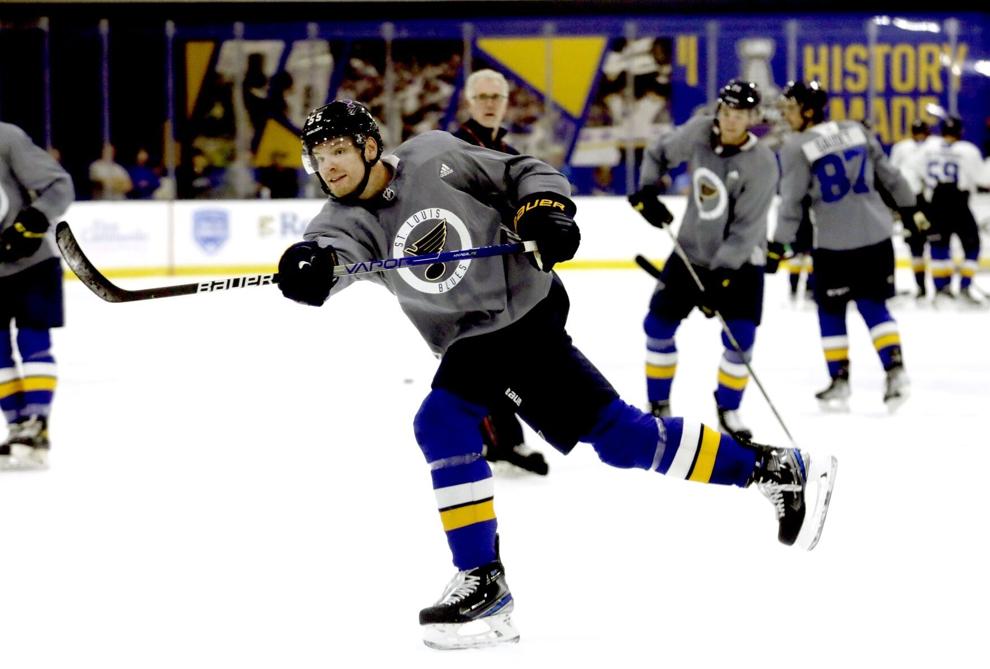 The top four on defense has basically been set since the start of the camp, with Leddy-Colton Parayko and Torey Krug-Justin Faulk forming the top two pairs.
But without Scandella and presumably Perunovich, the question remains: Who's the next man up?
Logic says steady Calle Rosen, who played in 18 regular-season games and nine postseason games for the Blues. Another option could be Steven Santini, who's played in three regular-season and three playoff games for the Blues over the past two seasons combined.
For now, Berube is casting a wider net in making a decision on a seventh or eighth D-man.
"Training camp's still going on, so there's guys that are going to have to perform at a high enough level that we feel they're capable enough of getting a spot," Berube said. "Or being one of the guys in the group here. And it's a little early for that."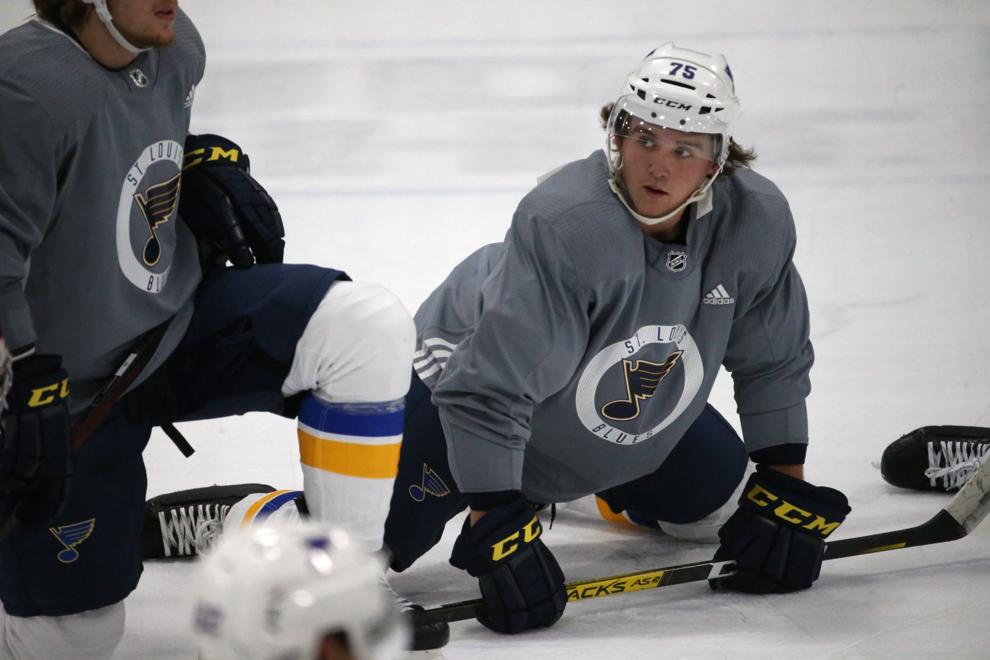 Berube made it a point to note that Rosen and Santini aren't the only candidates for the final spot (or spots) on defense. Youngsters Tyler Tucker and Matthew Kessel are also in the mix.
"I really liked Tucker's game last game (against Chicago)," Berube said. "I thought he was engaged. We were down to five D — he was out there a lot, played a lot.
"The thing for Tucker with me is we all know he's a physical big guy, but I thought he did a good job when he got pucks, skating 'em right away and moving the puck. That's what stood out for me with him."
Tucker, 22, was a seventh-round draft pick in 2018 who was captain of this year's Blues' squad in Traverse City, Michigan, for the NHL Prospect Tournament. He has two years of AHL seasoning, although COVID restrictions limited his 2020-21 campaign to just 27 games.
Kessel, 22, turned pro last spring after completing his third season of college hockey at Massachusetts. He was then able to squeeze in 33 regular-season and postseason games with the Springfield Thunderbirds.
More needed from Klim Kostin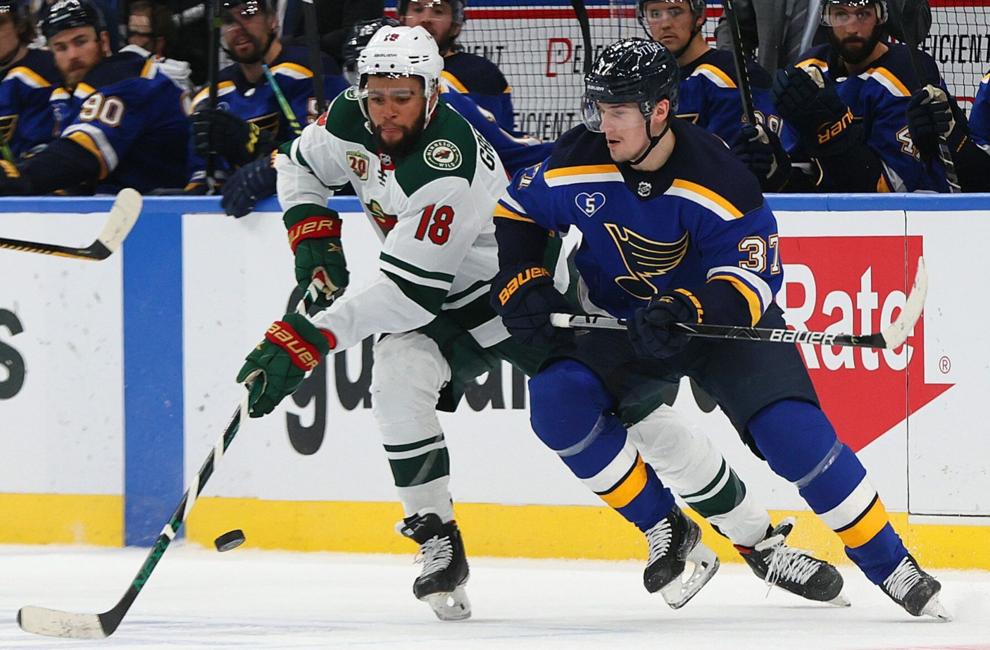 Klim Kostin had an assist in Tuesday's 4-1 win over Chicago, but the former first-round pick is far from a shoo-in to make the opening-day roster.
"He's got to do more," Berube said Thursday morning. "He's got to show us a little bit more. He's got to get engaged more in the games. I'm not seeing enough yet."
Torpo closerOne player who could take away a Kostin roster spot, Alexey Toropchenko, is inching closer to game readiness following offseason shoulder surgery. He was getting shoved into the boards by assistant coach Steve Ott during the Thursday practice by the non-game group. It was a drill to get Toropchenko accustomed to contact again.
Toropchenko also was involved in five-on-five work and doing some jostling around in traffic.