[ad_1]

Former world heavyweight champion, Mike Tyson, is one of the most iconic faces of the sport, and in turn, becoming an inspiration to many. And, many individuals have tried to emulate the legendary heavyweight over the years. Andrew Gray will surely agree. The NASCAR Late model driver recently channeled his inner Tyson during a recent race.
Grady was competing at the ValleyStar Credit Union 300. The event took place at the Martinsville Speedway in Ridgeway, Virginia. It was reported that the event involved four 25-lap heats. And the top 10 finishers in each heat will qualify for the race.
ADVERTISEMENT
Article continues below this ad
Grady and fellow racer, Davey Callihan, was placed towards the bottom pole positions of Heat Race 1. And he had three laps to go when he slammed the wall off turn two. It was said that this impact broke his track bar.
Meanwhile, Callihan slowed down to make sure everything was well. However, this was when things went downhill. An enraged Grady proceeded to pull down the netting. And unleash a brutal volley of haymakers at Callihan.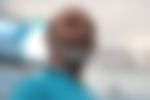 Speaking about why he chose to unleash his inner Tyson, Grady said that Callihan had flipped him off. And that he wanted to, "Mike Tyson his head."
The crew then had to step in to physically remove Grady from the spot.
Davey Callihan speaks about the attack
Davey Callihan, on the other hand, had a few choice words to speak about the incident. He also wished to mention that Grady's actions were out of line.
"It was for a transfer position at Martinsville. From my perspective, I was there. It was close."

He says he didn't flip off Andrew Grady and would have had a conversation about it.

"We were fighting for our lives out there."

Davey Callihan makes the Martinsville 300. pic.twitter.com/edPBJrGKgI

— Matt Weaver (@MattWeaverRA) September 24, 2022
Talking about the incident, he said, "I felt like I was inside enough there for him to give him a little more room than he did. He kinda pinched me down there, and I just didn't give an inch. You gotta fight for your life, for a transfer spot to get in the show."
Moreover, he added that the duo had accidentally locked tires, which enraged Grady. And also mentioned that he did not show the middle finger to Grady.
Fans were not too happy with Andrew Grady unleashing his inner Mike Tyson
It should be mentioned that fans were disappointed with Grady's actions. In fact, many fans took to social media to share their thoughts about the same.
You're in a big boy sport but u act like children

— Link (@crispykittie) September 25, 2022
A lot of fans accused him of acting like a child, and that Grady is a rich kid whose parents bought the car for him.
What an embarrassment, the after race scrum is a joke. At least let the guy get out of the car first you coward.

— Josh Reece (@JoshRee28498893) September 24, 2022
So…you beat up a guy who was strapped in and seated who couldn't fight back? Impressive. Nice eyeliner, too. 🙄

— Cory Van Name (@CorenthalJames) September 25, 2022
Meanwhile, a lot of fans called him out while attacking Callihan while he was still strapped to his car. And mentioned that he should have at least let him get out of the car.
Ok so hold up.

This guy was more offended over what he thought was someone flipping him off, than getting wrecked.

Dude pack your bags & start your UFC career, because you aren't gonna make it in racing if someone maybe or maybe not flipping you the bird sets you off THAT much.

— Ultimate23Dragon (@Ultimat23Dragon) September 24, 2022
On the other hand, user @Ultimat23Dragon felt like Grady should start a career at UFC instead.
ADVERTISEMENT
Article continues below this ad
It doesn't give him the right to put his hands on him. I hope they expel him and charge him with assault

— Bri (@fallintome2006) September 24, 2022
However, user @fallintome2006 mentioned that Grady should be expelled and charged with assault.
ADVERTISEMENT
Article continues below this ad
WATCH THIS STORY –  Five Infamous Altercations of Mike Tyson outside the Ring
Do you think the fight was necessary? Share your thoughts in the comments below.


[ad_2]

Source link