[ad_1]

Article content
Five female soccer players from Petawawa make Ottawa City Soccer Club team that competed overseas at Super Cup NI in Ireland.
Article content
The Super Cup NI is an elite level, annual, youth soccer tournament that has been operating since 1984 out of Northern Ireland.
Each year it draws premier teams from across Europe and the Americas. This year, games were hosted across 19 venues with the girl's division playing in Newtownabbey and Antrim on the outskirts of Belfast.
Registered teams included the Republic of Ireland (National U16 team), Northern Ireland, Northeast Rush (U.S.), Surf Select (U.S.), Rangers F.C. and Ottawa City Soccer Club.
Ottawa City is a Regional Level team that historically has called up players from Petawawa Minor Soccer Club at the U15 and U16 age groups to augment their team in league play.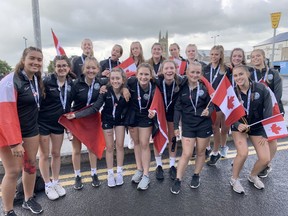 This positive relationship led to an invitation for Petawawa players to tryout for the Ottawa City team traveling to Ireland. Close to a dozen players from the U16G Petawawa Falcons competitive team answered the call.
Head coach Eduan Naude reported he was impressed with the quality of all the Petawawa players at the tryout. In the end, five girls were selected for the team namely Carlyn Brunette (striker), Clara Lemoine (midfield), Rose McCafferty (keeper), Isabelle Schori (midfield) and Madeline Schori (wing/striker).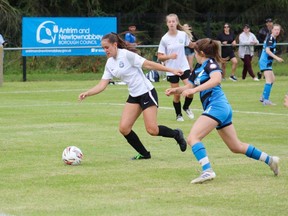 The tournament ran July 24-31 and began with an opening ceremony which included all teams parading through Coleraine to The Showgrounds (Coleraine stadium). Ottawa City was the only Canadian team entered and the U16G did a splendid job representing Canada. Although the team picked up no wins over the tournament, they played hard, never losing focus on their purpose and in doing so were awarded the most sportsmanlike team in the girls division. They were fan favorites and made new friendships throughout all the teams.
The calibre of play was incredible, humbling, and inspiring.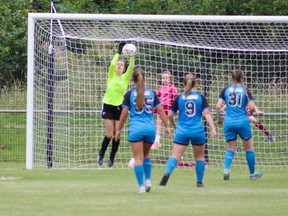 The Petawawa players are looking forward to bringing that experience back to their own team and club. It was a once in a life time opportunity that has produced a lifetime of memories.
The Super Cup NI was originally a boy's tournament (U13, U14, U16 and U18), however a girl's division (U16) was added this year.
Submitted by Adam Schori
[ad_2]

Source link